Design icons: how Nancy Lancaster epitomised the country house in a sofa
Continuing our series on timeless icons of the design world, Serena Fokschaner explores the country house classic that is Sibyl Colefax & John Fowler's charming 'Haseley' sofa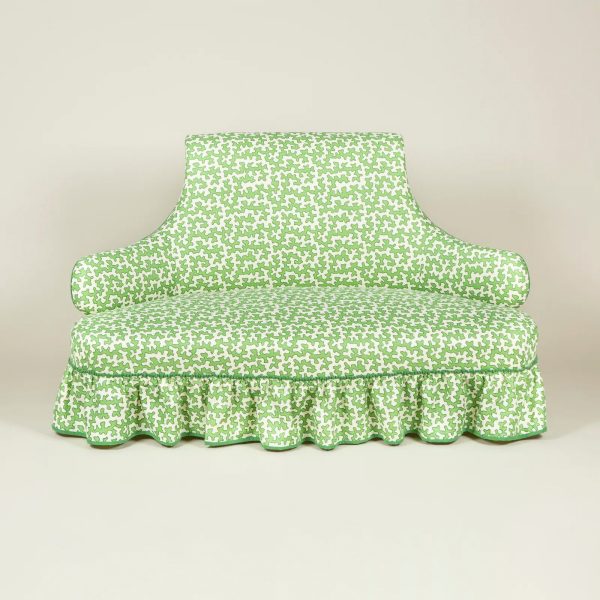 Alistair Bennett
The Haseley sofa has been a staple of Sibyl Colefax & John Fowler's London showroom since the 1950s. The precise origins of the shapely but useful two-seater are hazy. But in style and spirit it has all the hallmarks of a Nancy Lancaster design. The US-born socialite and decorator bought the interiors business founded by Lady Colefax in 1947. With her business partner John Fowler, Nancy made the firm synonymous with a particularly English style of decorating; ageless, comfortable and uncontrived. Much like the Haseley in fact.
The Haseley was probably inspired by an antique which the gimlet-eyed Nancy, always on the look out for a pretty thing, spotted during one of her many shopping trips. 'She may have got idea from a more elaborate four-piece Victorian seating arrangement with cabriole legs and decorative back,' explains Roger Jones, a director of the company.
It was typical of Nancy with her 'lightness of touch… and dislike for self-aware grandeur,' says Roger, that she simplified the original, jettisoning superfluous details but incorporating fun flourishes: the arched back and chubby arms curved in a welcoming embrace. The compact size makes it useful too. 'It's a convenient and flexible perching place which works in a number of ways, and places,' he adds.
After Nancy moved to Britain with her English husband, the MP Ronald Tree, in 1924, doing up houses became a vehicle for self-expression and inventiveness. As the Virginian once drawled: 'I'm agin' decoration, I'm just a percolator of ideas.' It helped that Nancy (who married Colonel Claude 'Jubie' Lancaster in 1948 after her divorce) had the financial freedom to do as she pleased. Mirador, her grandparent's creeper-clad home on an estate in Albemarle County, Virginia, held a special place in her imagination and she 'brought a distinctly American look' to a succession of sprawling country homes: the Palladian Kelmarsh Hall in Northamptonshire and Ditchley Park and Haseley Court, both in Oxfordshire.