DESIGN INSPIRATION FOR TODAY'S COUNTRY HOUSE
Country-house design embraces a timeless aesthetic, yet is ever-changing. Four industry leaders tell us about the latest trends

THE INTERIOR DECORATOR
Lucy Hammond Giles works for Sibyl Colefax & John Fowler, the longest-established interior decorating firm in Britain.
A country house is like a character in a drama. Each has its own story and style, and is made up of layers – sometimes literally, as they have been built over many centuries. It is thrilling to bring out the best in a house so it gives the people living there a home that works.
What makes a country house a home has changed over time. Today the kitchen is as important as the drawing room; it is where a family spends the most time and socialises, so it needs to be spacious and comfortable. Where planning permission has allowed, I have knocked rooms together to make a larger space or moved the kitchen to another room so it is light, with beautiful views.
Orangeries have always been popular – people want an outdoor drawing room with lots of light and the textures of brick walls. Rattan furniture and plants lend an air of informality and spontaneity.
I love a hall; it comes into its own in a country house, offering a transitional space between the outside and the inside. With space now at such a premium, it feels like a wonderful luxury.
Empty walls, if balanced by the architecture, textiles and other objects in the room, are another breathing space. However, we also like to hang antique textiles and art for better acoustics and to give a room a finished feel.
We always use natural materials in our design – they have a character and a style to them, are beautifully made and last longer.

THE FURNITURE-MAKER
Cassie Rowland is head of product development at Neptune, the British company known for its thoughtful design and country-house aesthetic.
We aim to create the inheritable pieces of the future, the ones that will last 100 years and be handed down through the generations: a farmhouse table that will play host to family meals and celebrations over many lifetimes; a dresser piled high with much-loved ceramics.
Inspiration is drawn from a variety of sources, including what we see on our travels, but the classical design of historic eras such as the Georgian period is often our starting point: clean lines, symmetry and pared-back forms.
This simpler style also means furniture is versatile; a piece will look as good in a country cottage as it does in a manor house. Similarly, our bespoke Shaker-style kitchens follow the principles of simplicity, utility and honesty, so they fit into any setting.
We use historic artisanal techniques such as dovetail joints and tongue and groove, which add decoration in an understated way and give a sense of history. This level of craftsmanship ensures furniture is robust enough to cope with modern life for years to come.
When it comes to materials and colour, we reference the natural world. Our palette is inspired by the soft colours of the British countryside, which never go out of fashion. We work primarily in solid oak – the knots and grain found in a tree are unique. These imperfections give each piece of furniture a soul and ensure no two are the same.

THE ANTIQUES DEALER
Edward Hurst is that rare breed – an antiques dealer who is also an interiors consultant. He has worked on Grade I-listed Hatfield House in Hertfordshire; other clients include Jasper Conran and the Earl and Countess of Shaftesbury.
The pleasure of creating a room is working with the client to make something unique, layering pieces from different periods, countries and styles. The overall look is paramount – I wouldn't want someone to walk into a room and be able to place which year it had been "done" in. A room must be true to the building it resides in and the client who resides in it.
I only buy something if I love it. I began dealing in antiques when I was 12. Forty years and lots of purchases later, I can usually spot something "good" from across the room. Proportion, material, condition, form and colour are important, but what matters above all is whether an object is charismatic enough to grab your attention.
I was about six when I felt that by holding an old object rediscovered when digging in the garden, such as a fragment of clay pipe, I could imagine its story from the moment of creation to the present day. I feel that same connection with the pieces I buy; they all have a history, and uncovering that is part of the thrill. One of my most exciting finds was a clock that had been made for Frederick, Prince of Wales, the eldest son of George II. It now resides in its rightful place at the Victoria & Albert Museum in London.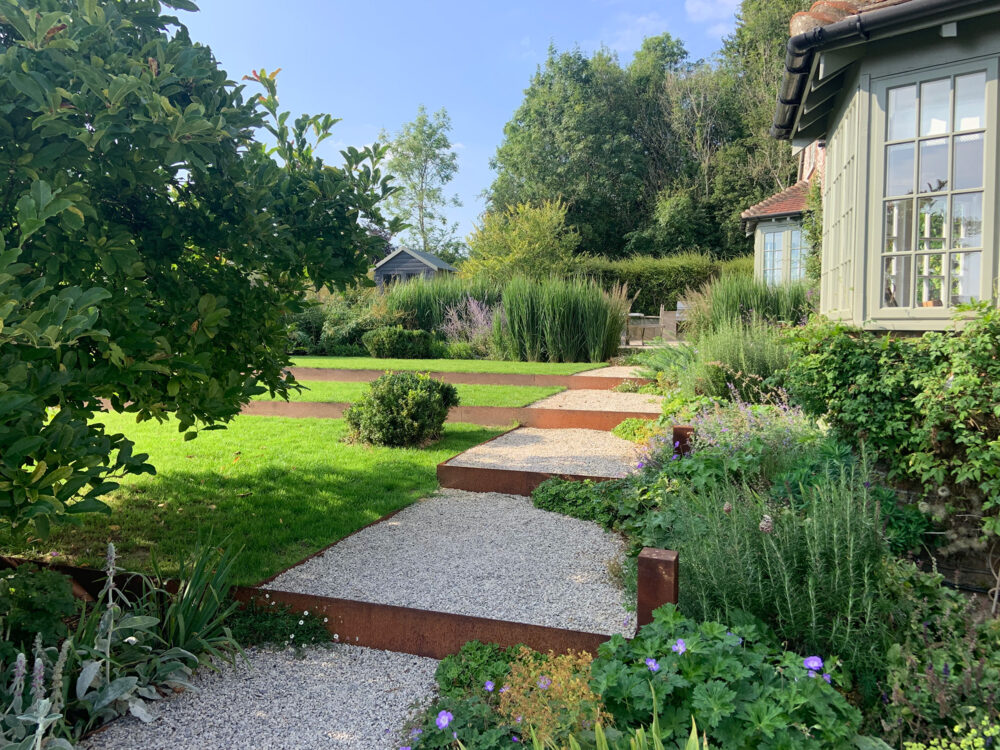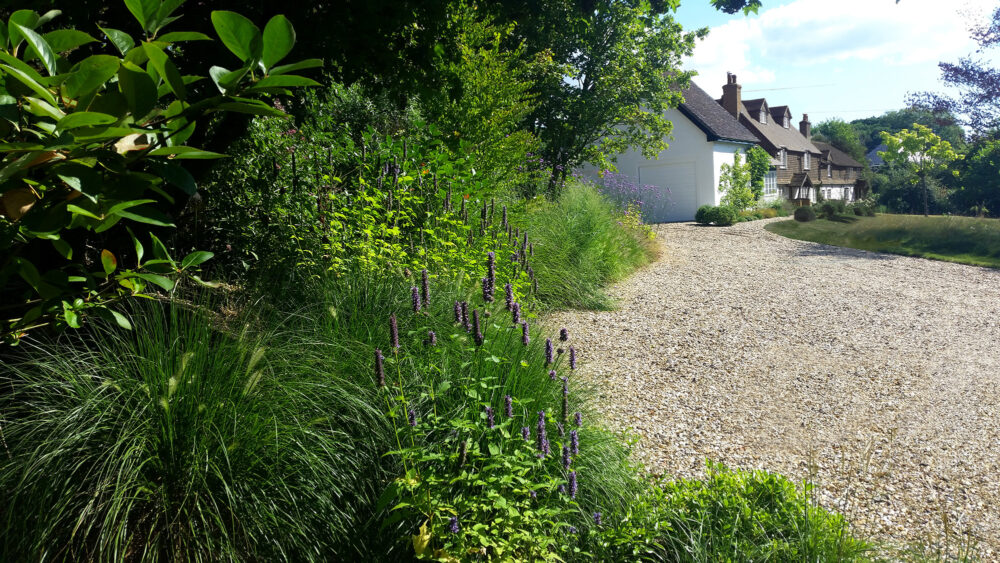 THE GARDEN DESIGNER
Charlotte Rowe heads an award-winning practice that has created more than 250 gardens in the UK, the US, France and Italy.
A modern country garden is the bridge between the house and the "borrowed" landscape – the area beyond the property that, in effect, becomes part of the garden. As well as working with the sky, the house and the garden, we consider seasonal changes in the surrounding fields. We combine strong architectural lines with generous planting, enabling the house to sit comfortably in its environment.
A lawn by the house gives space for children to play. Arbours, fireplaces and fire pits, as well as outdoor heating and lighting, meet the demand for al fresco dining we're seeing now. Beyond, we create a soft, natural look by combining perennials and grass with "cloud planting" – plants clipped into loose balls – and mown paths through longer grass. It feels more natural and is better for insects and wildlife.
Traditional garden ideas have been updated. A walled garden can be "edimental" – a mix of fruit, vegetables and herbs, with ornamental shrubs, roses and flowers for cutting. Our new drought-prone climate means gravel planting and grasses work well too.