Small space ingenuity meets theatrical design in Lucy Mayers' London flat
The interior designer has wrought an impressive transformation on her tiny Kensington flat, taking it from boring 'standard student rental fare' to a space full of personality and packed with surprises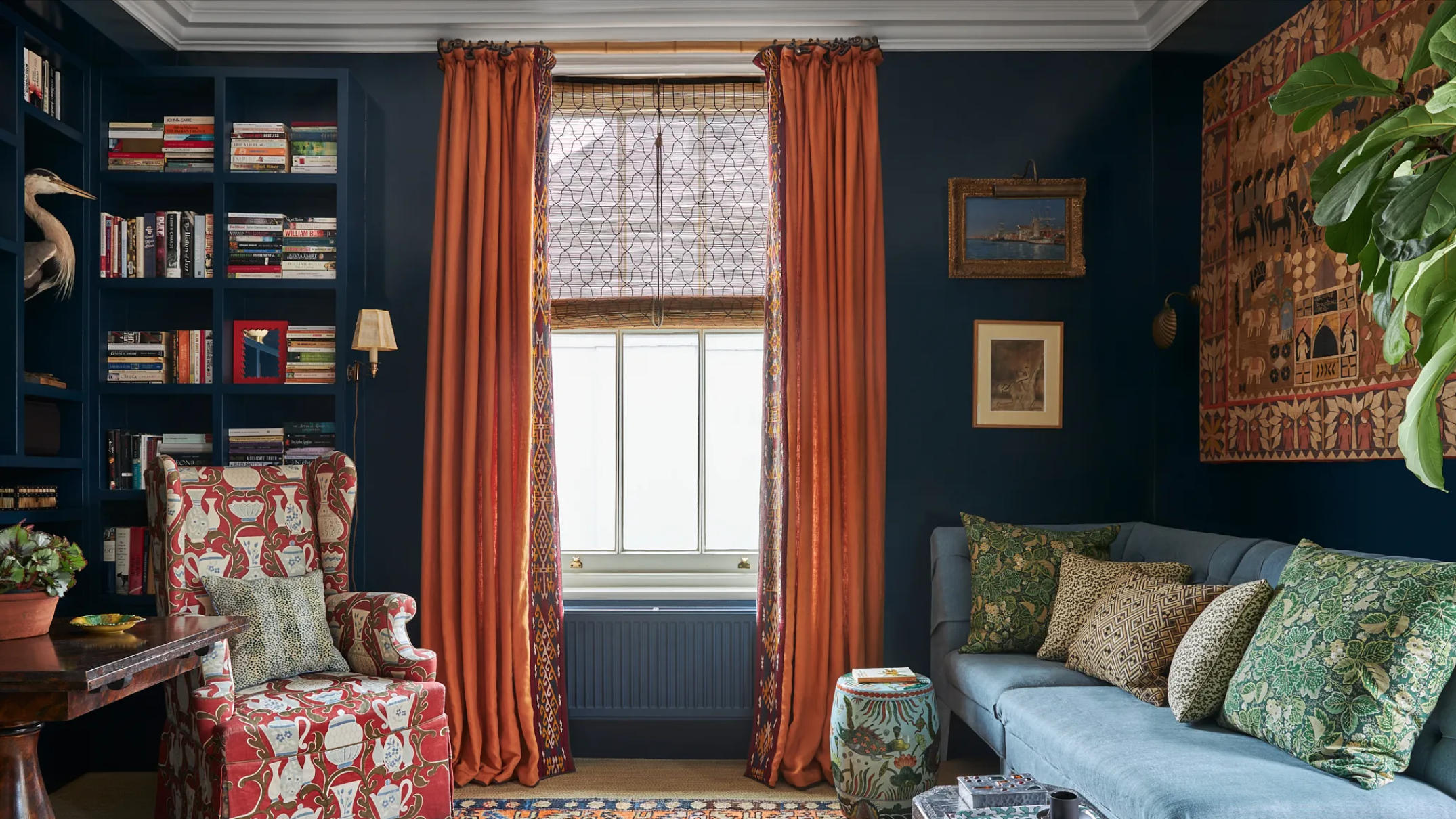 Boz Gagovski
"You know how people always say that if you have a tiny space like a downstairs loo, you should go a bit mad with the decoration and make it into a jewel box? Well, I thought I'd just do that with this entire flat," says Lucy Mayers. It's hard to believe that when Lucy, an interior designer at Sibyl Colefax and John Fowler, first moved into this South Kensington flat in 2016, it was "standard student rental fare, all white walls and beige carpet. It had no personality at all." By the time she left the flat earlier this year, in need of a larger space for her family, the flat's personality was nothing if not developed. If the flat were in fact a person, it would be the one you'd want at all your dinner parties.
With only 56m2 to play with, it was crucial to make the most of the space. "The flat felt like it mostly consisted of corridor and cupboard when we found it," says Lucy. "There was an IKEA galley kitchen and the roof terrace could only be accessed via the bedroom, which made it less attractive as an entertaining space." A brisk set of structural improvements followed: the living room became the bedroom, while the galley kitchen and the former bedroom became an open plan living room which opens onto the roof terrace. The unnecessary cupboards in the hallway were removed to allow more space in each room. Decoration followed slowly; the bathroom two years later and the kitchen another two years after that.
"I wanted something that shouted," remarks Lucy on the subject of the decoration. "I have always admired people like Tony Duquette and Renzo Mongiardino, who both have set design in their background. John Fowler's decoration of Hays Mews is another space I always come back to." The theatricality of these designers' work, and their ability to achieve spectacular effects with quite spontaneous arrangements of textiles and objects, has clearly had an impact on Lucy's aesthetic. Her work at Sibyl Colefax & John Fowler has given her an instinctive sense for how to create a comfortable, liveable interior amidst the theatrics.
The sitting room, with its deep blue walls, was the first space to come to life. "This shade from Papers & Paints is just pure pigment," notes Lucy. "I wanted this room to feel grown-up, like a member's club, somewhere that I'd want to spend my evenings. But it also has this rather womb-like feeling–it's a room to be held in." The tiny size of the room necessitated some ingenuity in the design–what Lucy calls 'caravan-living logic.' "This room had to function as a library, a TV room, a dining room, and a comfortable sitting room," she explains. She found a useful banquette at OKA that could easily function as a sofa for movie nights or as seating for dinner parties, and designed a bookshelf to provide tailored storage for, among other things, a chess set, record player, bottles of wine and a taxidermied heron.
The other living spaces are equally enchanting; the kitchen was designed to resemble a bar, with a glamorous splashback in tiles that appear to be brass but are actually porcelain. A small room which has served as a study for Lucy's husband and as a nursery for their baby is papered in a gold Pierre Frey wallpaper. "I was slightly concerned that this would give him an inflated sense of his own importance in his early years," she says, "but never mind." The bathroom, meanwhile, transports its occupants to the jungle, thanks to a wallpaper that reproduces Henri Rousseau's 19th-century painting Surprised! from the National Gallery. "I love tigers," explains Lucy. "I liked the idea of a secret jib door within a stormy rainforest that one could enjoy while lying in the bath. The first time I had a bath in it my husband snuck in some speakers and played rainforest sounds, much to my surprise."
While the main bedroom is a calmer, lighter counterpoint to the bold and dramatic schemes elsewhere, it is still notably luxurious. Lucy used a pale pink suede wallpaper from Pierre Frey to give the effect of a fabric-walled room on a lesser budget. "There is a softness to it, and it has that lovely effect of deadening sound. And then when the light comes into the room it changes colour; sometimes it seems more yellow or more grey or more white."
In an interior that shouts, like this one, Lucy notes that it helps to have repeated themes throughout that provide a sense of coherence; colours can work in this way, and deep blues, greens and warm reds recur in each room. Motifs can also help; bamboo is one motif that crops up on the brass handles of the kitchen cabinets, on the curtain pole in the drawing room, and in the Pierre Frey wallpaper in the gold room. "Even if the eye doesn't consciously notice these things, I think subconsciously they create an idea of harmony," she says. Antique fabrics, which Lucy came to love and know well during six years working for Robert Kime, are another recurring theme. "If I can go for an antique fabric, something with a history and a previous life, I will. It makes for automatic layering."
Smart and sophisticated as the flat is, Lucy emphasises the importance of imperfection in any interior. "Imperfection cuts through formality," she remarks, "and that's what makes people feel at home. You need to feel like you can put your feet up, and that it wouldn't be the end of the world if you spilled something. Making people feel at home is really the most important part of our job."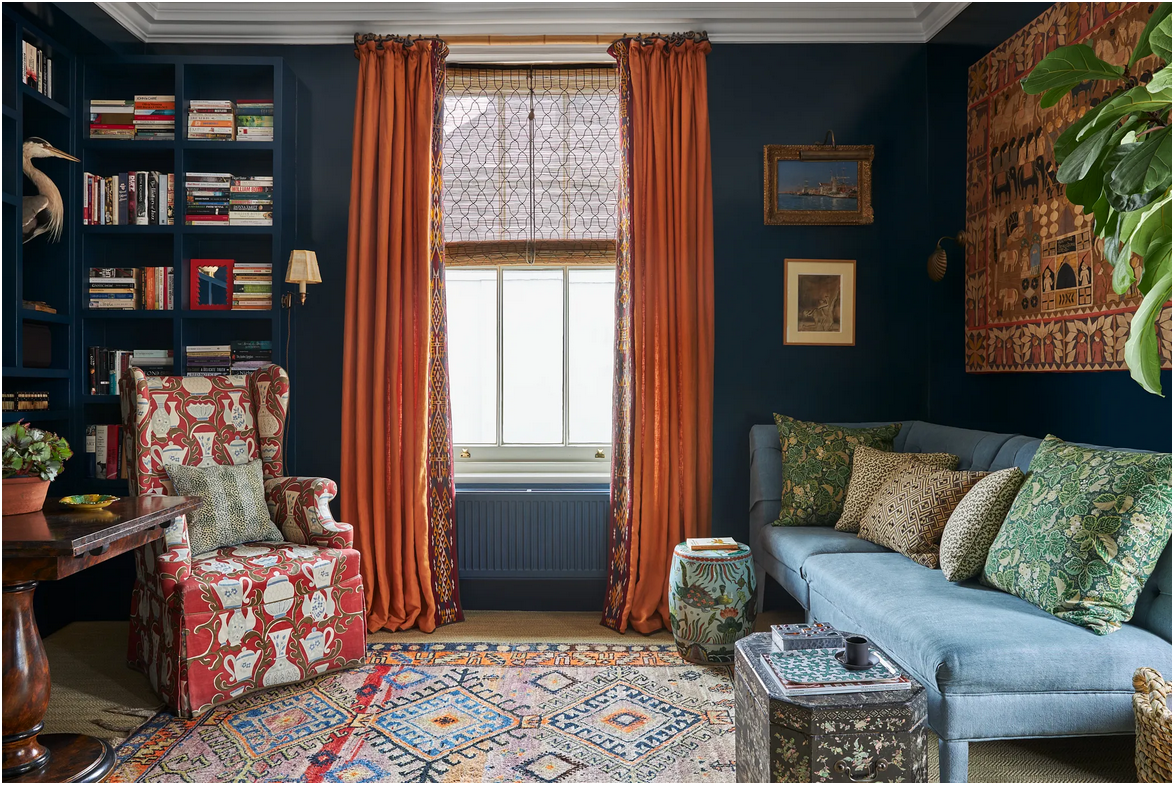 Boz Gagovski
The walls in the sitting room are painted in 'Oxford Blue' by Papers & Paints. The armchair is a bespoke model from Colefax and the banquette came from OKA. The curtains were made in a plain linen from Volga Linen and then trimmed with a vintage braid when the edges faded in the sunlight. The rug was a gift from Lucy's mother-in-law.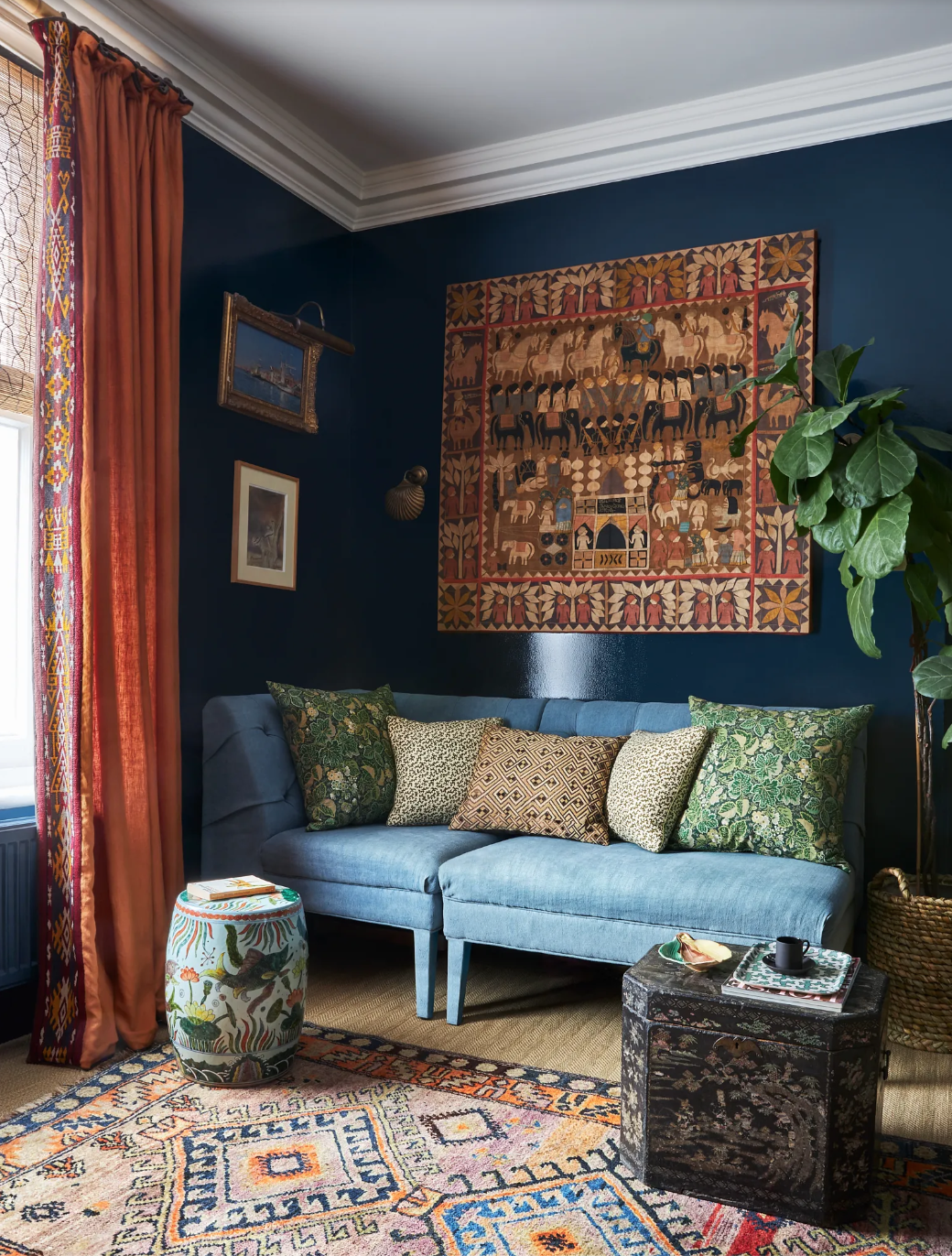 Boz Gagovski
Hanging behind the sofa is a late 19th-century Kanduri shrine cloth from Uttar Pradesh, India, mounted on a stretcher. Two cushions in Sibyl Colefax & John Fowler's 'Seaweed' pattern keep company with a pair in Décors Barbares'  'Dans Le Foret' and a single vintage Shoowa cushion.\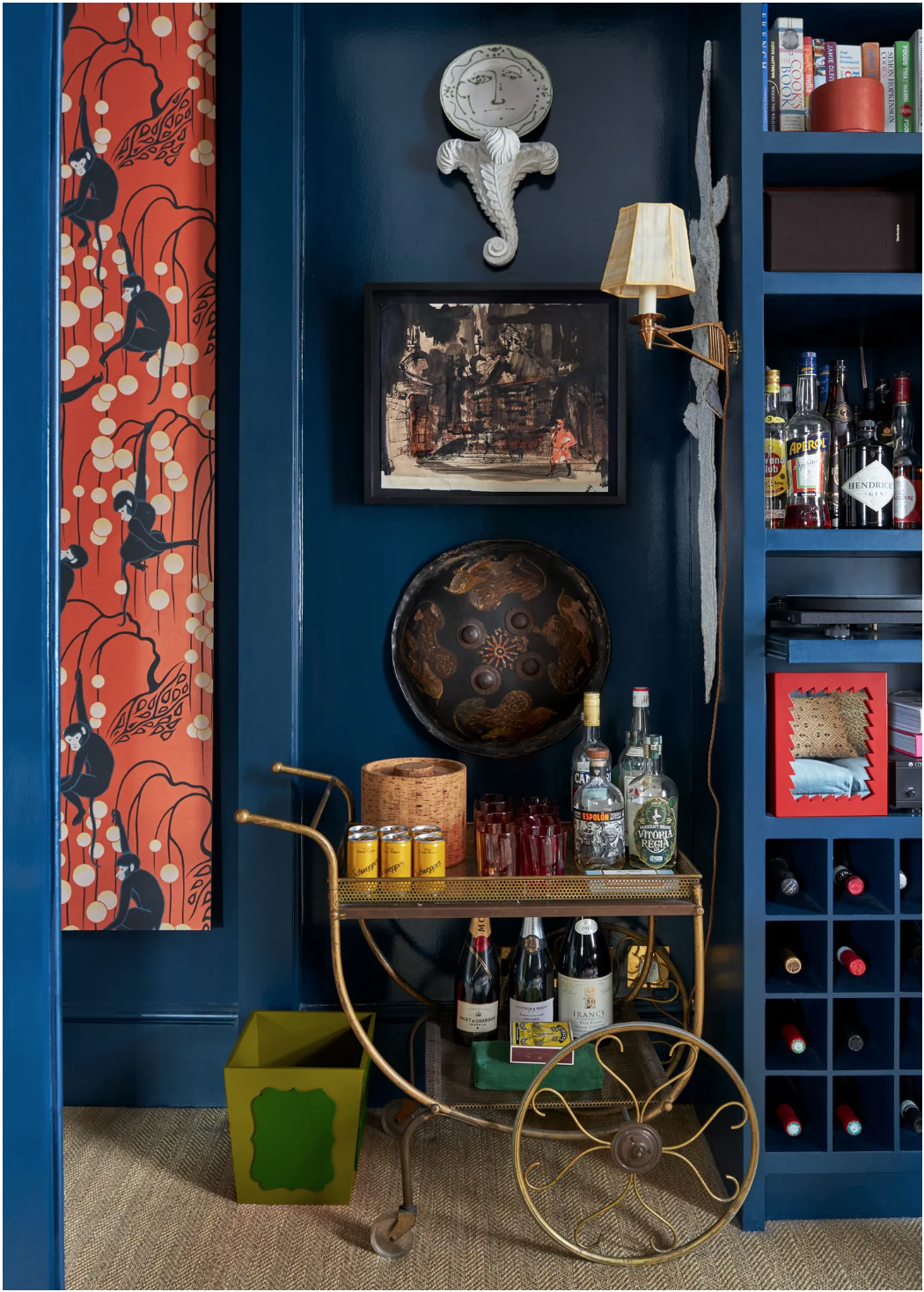 Boz Gagovski
A panel of de Gournay's 'Deco Monkeys' wallcovering enlivens the scheme in the sitting room. The bar cart is a Josef Frank design, bought at Retrouvius. A bracket by Lucy's friend Benedict Foley adorns the wall.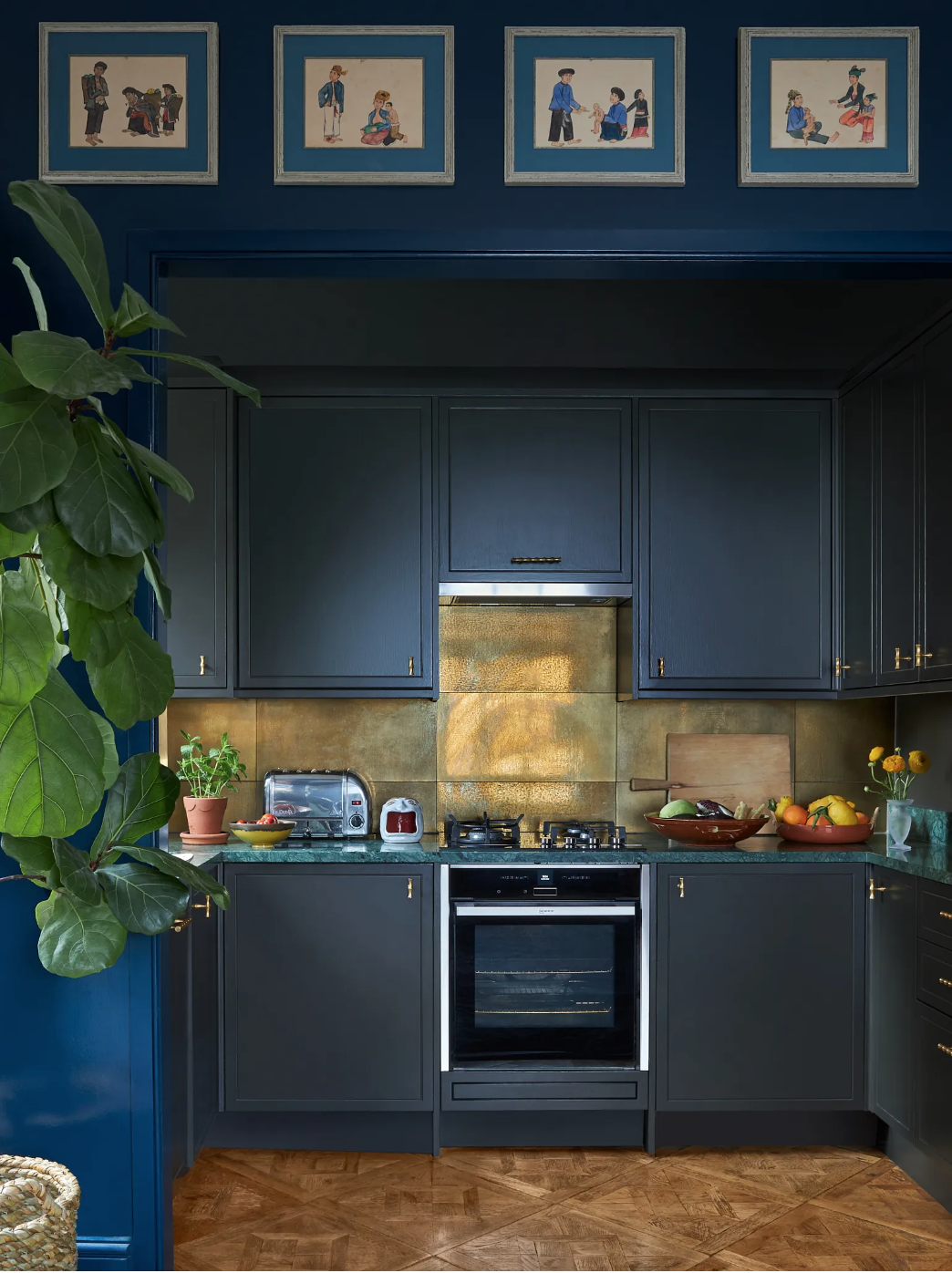 Boz Gagovski
The kitchen is painted in 'Du Cane' by Papers and Paints. The tiles are Fameed Khalique's 'Urban Gold' design.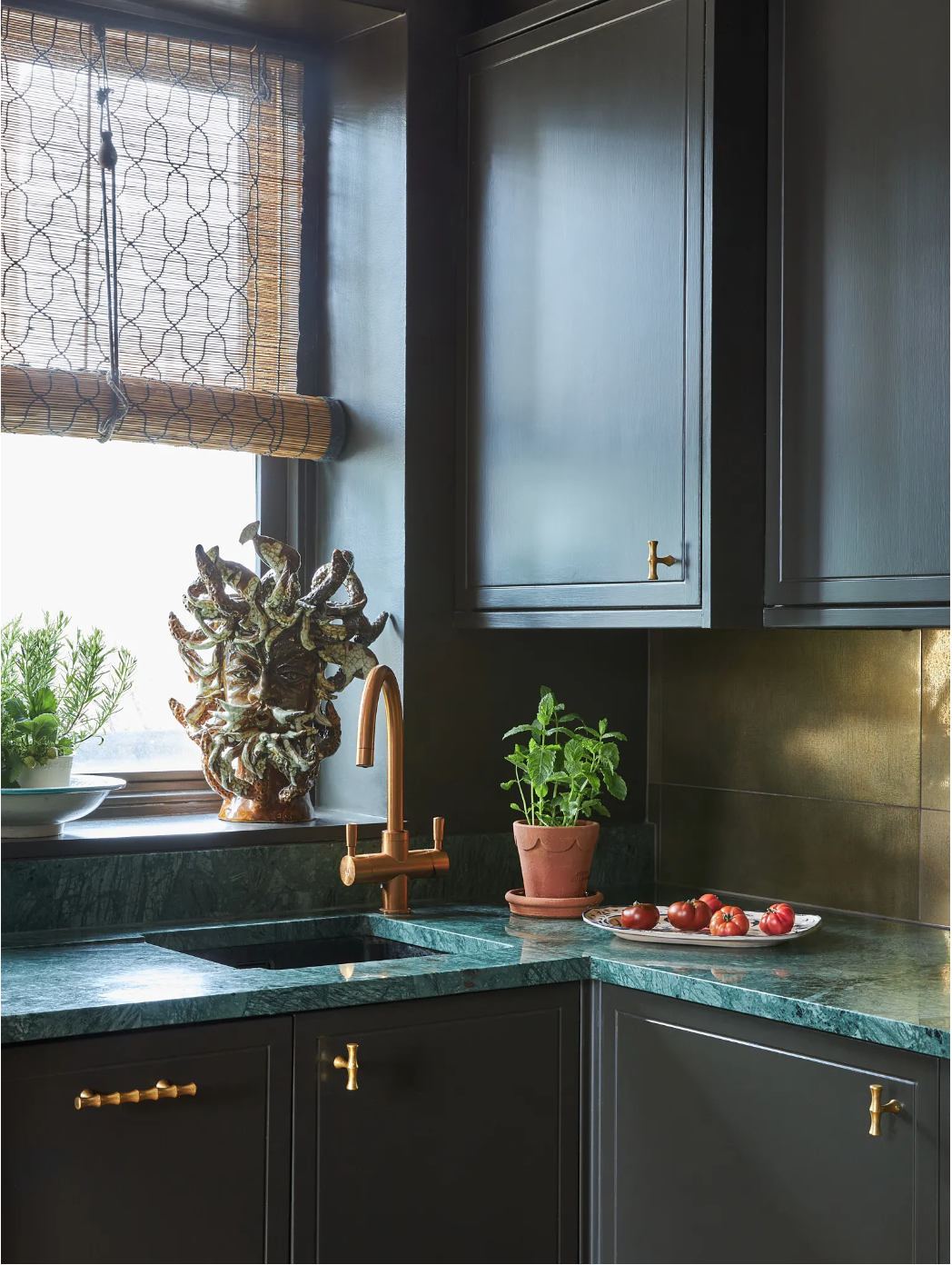 Boz Gagovski
The chik blinds were handmade in India, and the bamboo-motif handles are from Beardmore.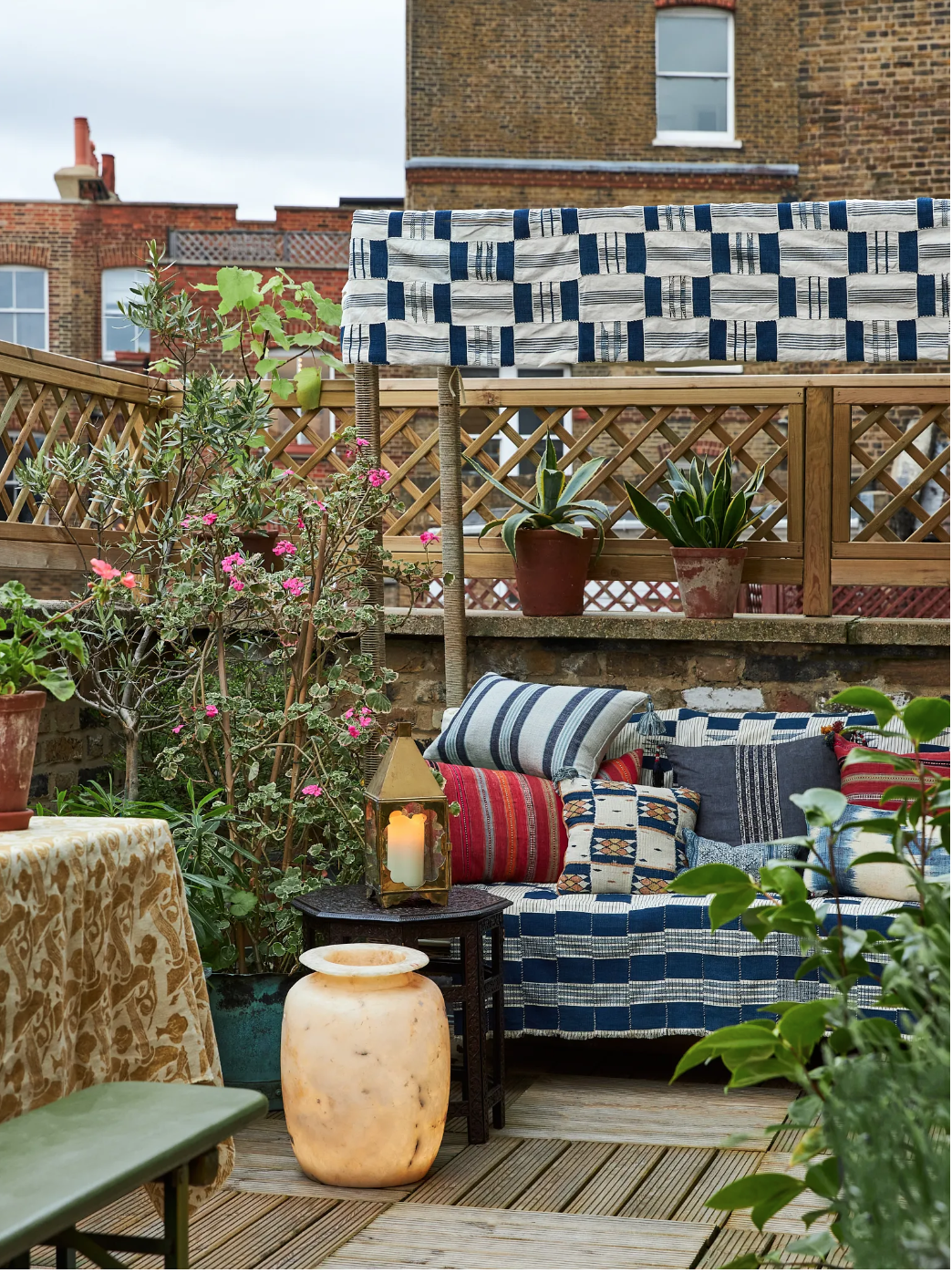 Boz Gagovski
The day bed on the roof terrace is from OKA.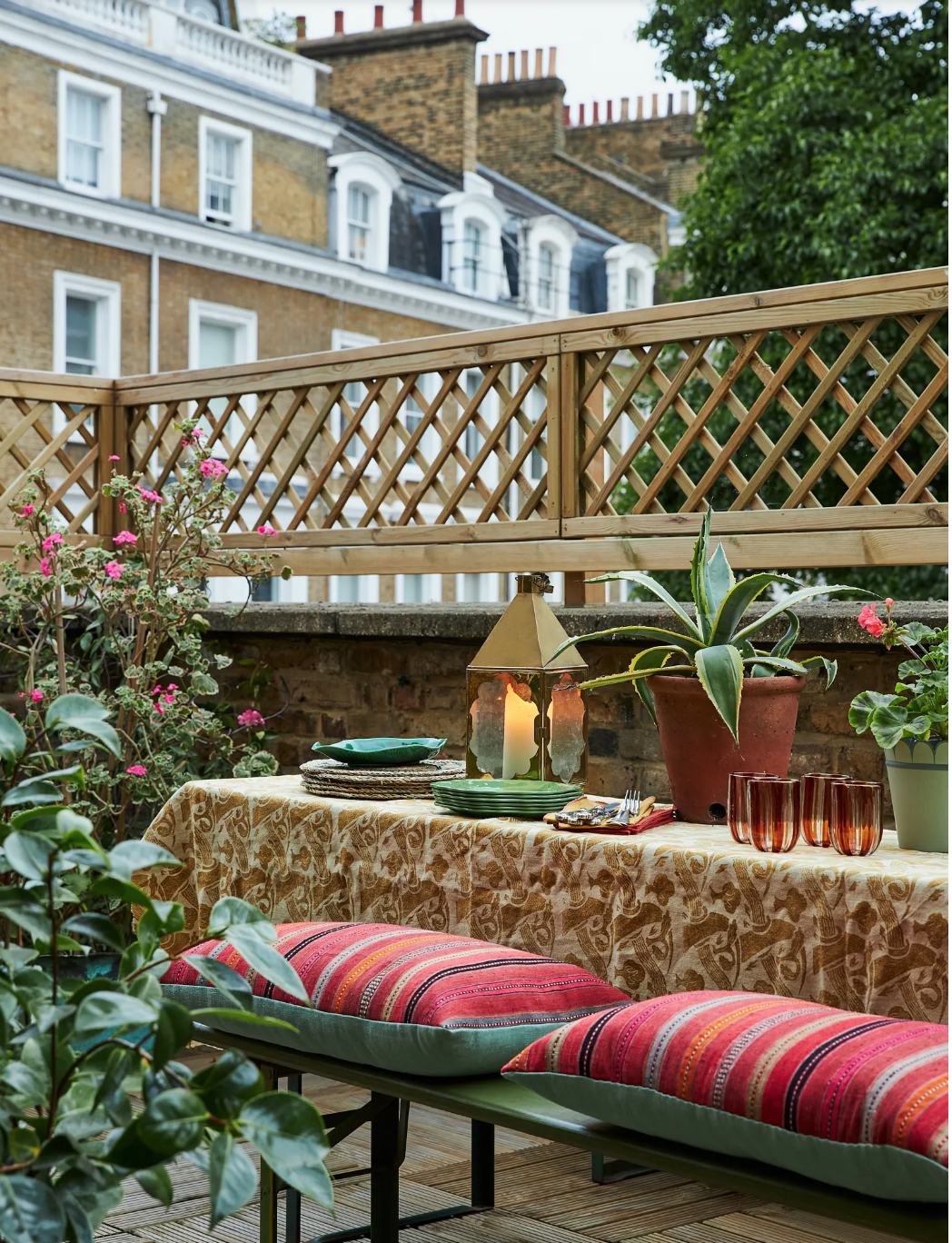 Boz Gagovski
A biergarten-style table and benches provide ample entertaining space on the roof terrace.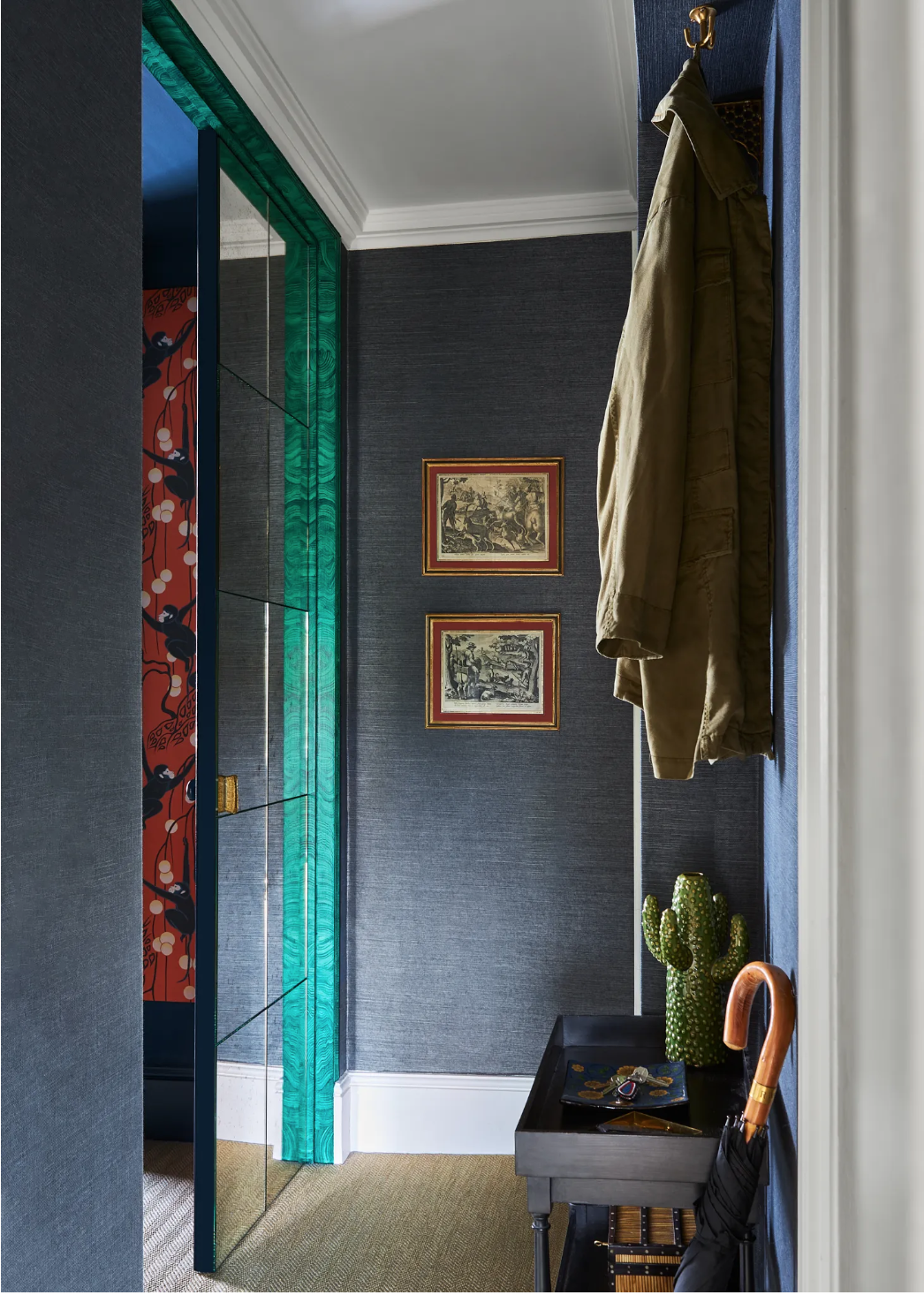 Boz Gagovski
A wallcovering from Phillip Jeffries lines the hallway.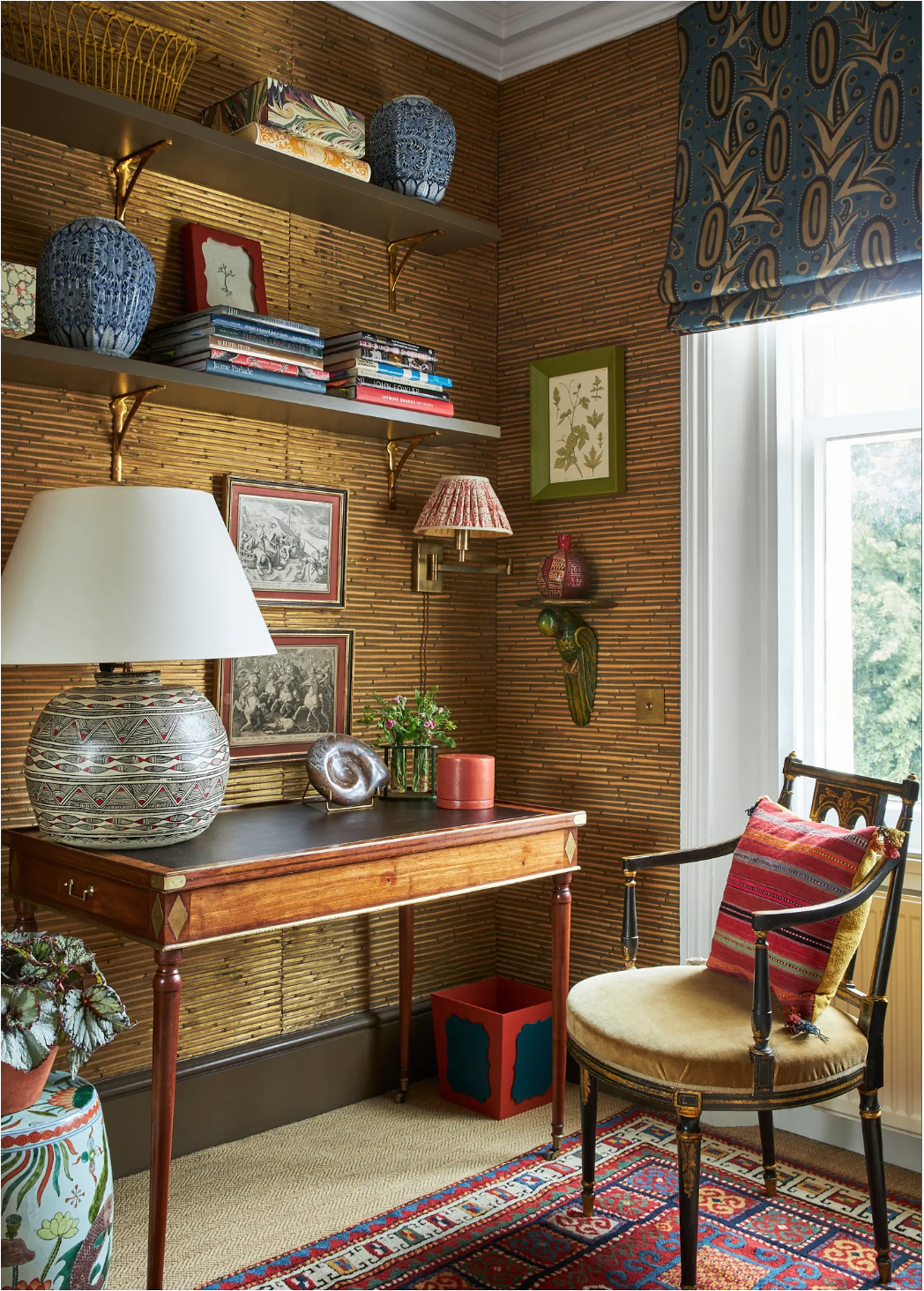 Boz Gagovski
The snug is papered in Pierre Frey's 'Eridan' in or. The blind is also in a Pierre Frey pattern, 'Ananas' in pétrole.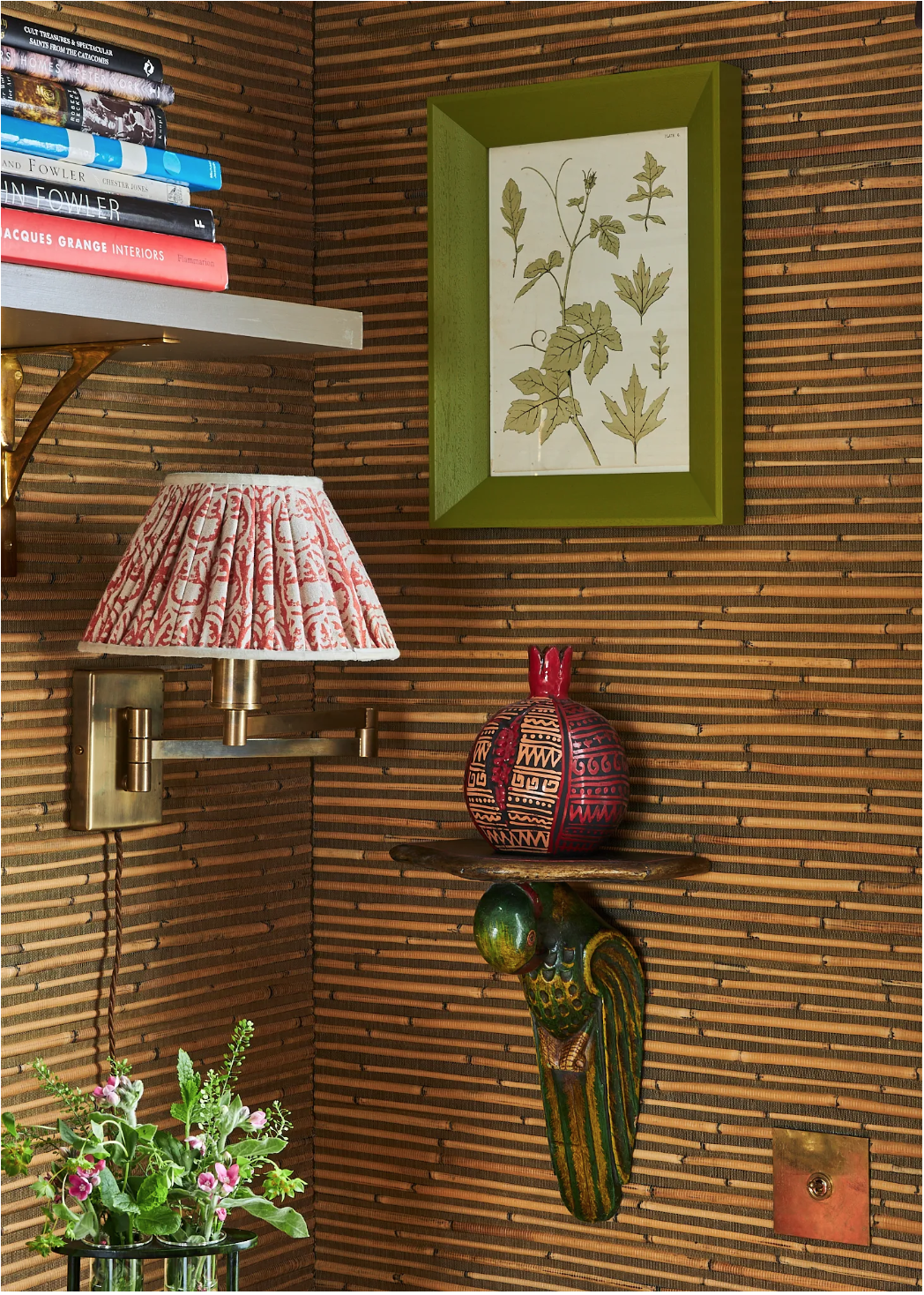 Boz Gagovski
The wall light is Sibyl Colefax & John Fowler's 'Billy Baldwin' wall light in brass.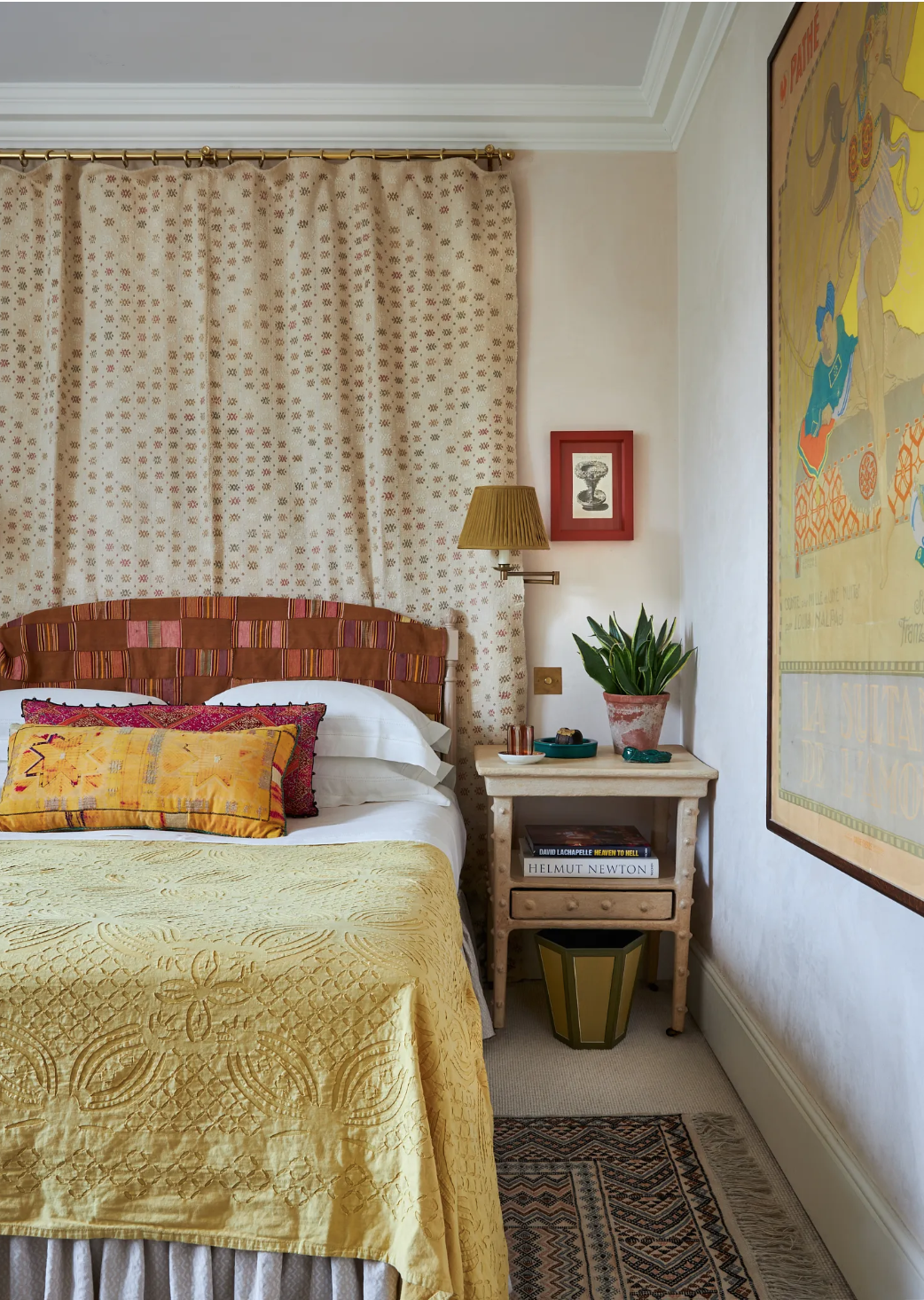 Boz Gagovski
The textile hanging behind the bed, an early 19th-century Anatolian piece bought from Susan Deliss, helps to balance the height of the wardrobes on the opposite wall. Lucy has used a Ghanaian Ewe Kente cloth for the headboard, and a yellow appliqué blanket decorates the foot of the bed. Antique marriage cushions from the Swat Valley sit at the top.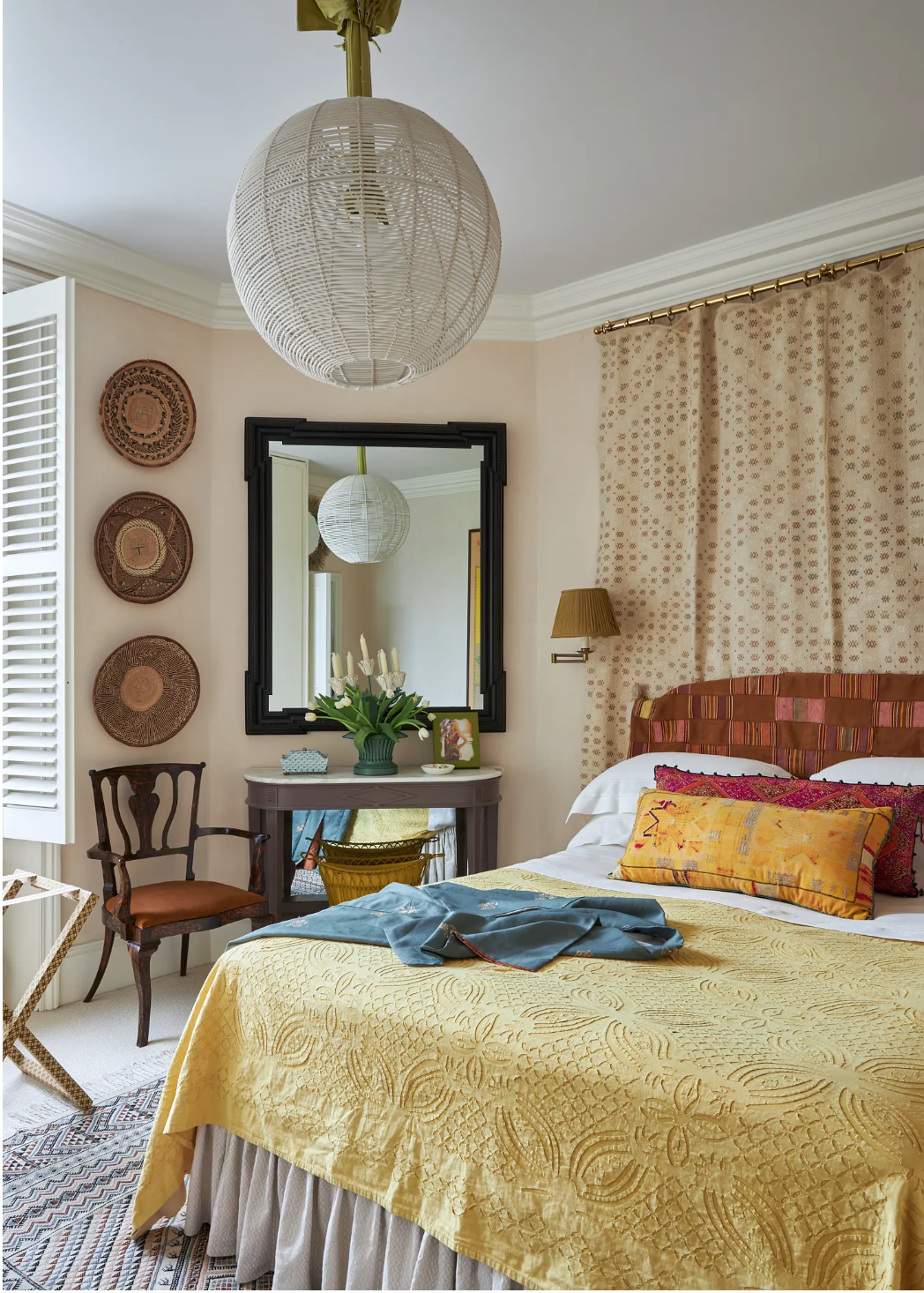 Boz Gagovski
A Malmo rattan ceiling shade from Habitat hangs in the bedroom, paired with a chartreuse silk chandelier sleeve.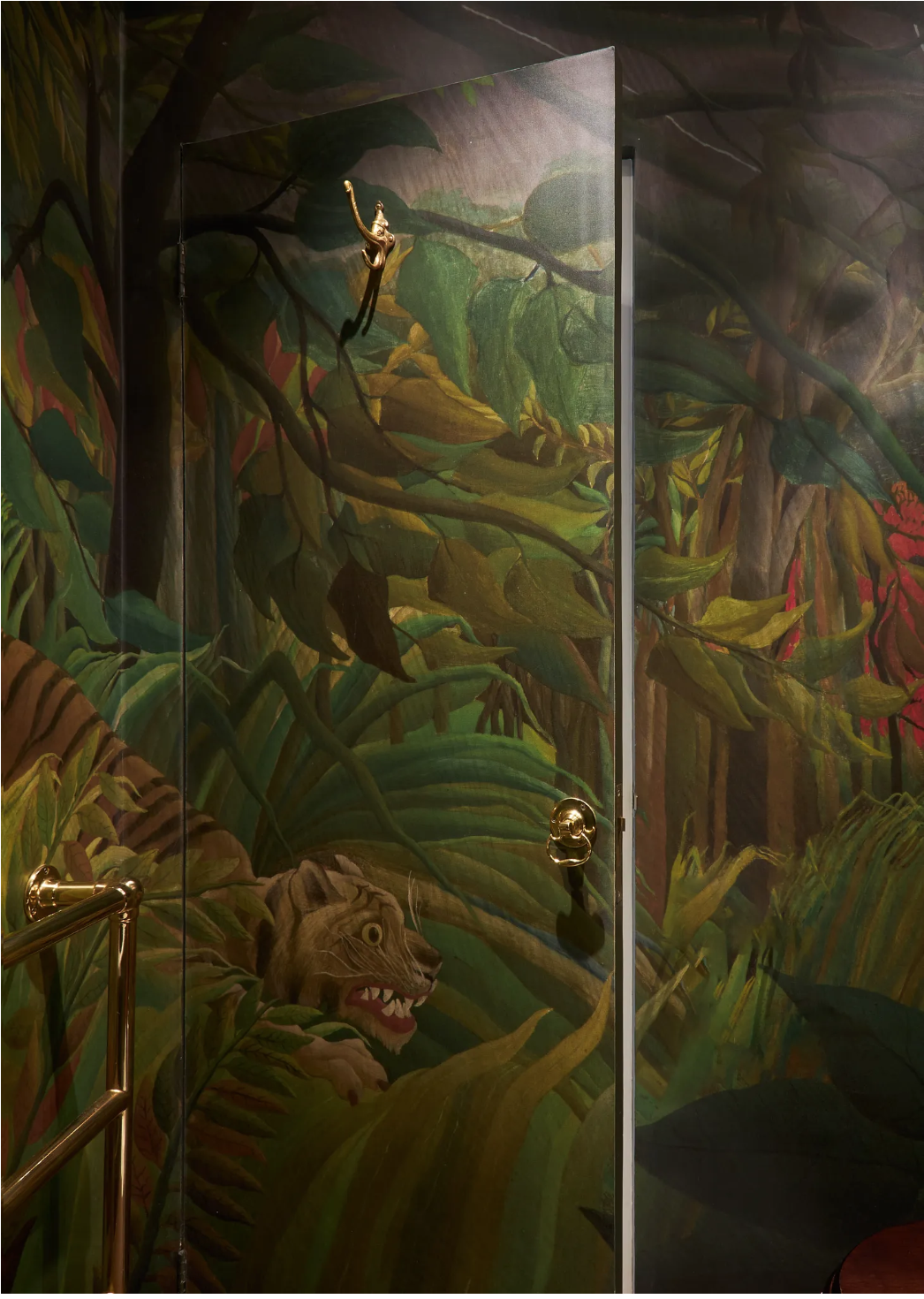 Boz Gagovski
The door to the bathroom is a jib door on this side, papered in a reproduction of a Henri Rousseau's 1891 painting Surprised! The painting can be seen in the National Gallery and was reproduced by Andrew Martin.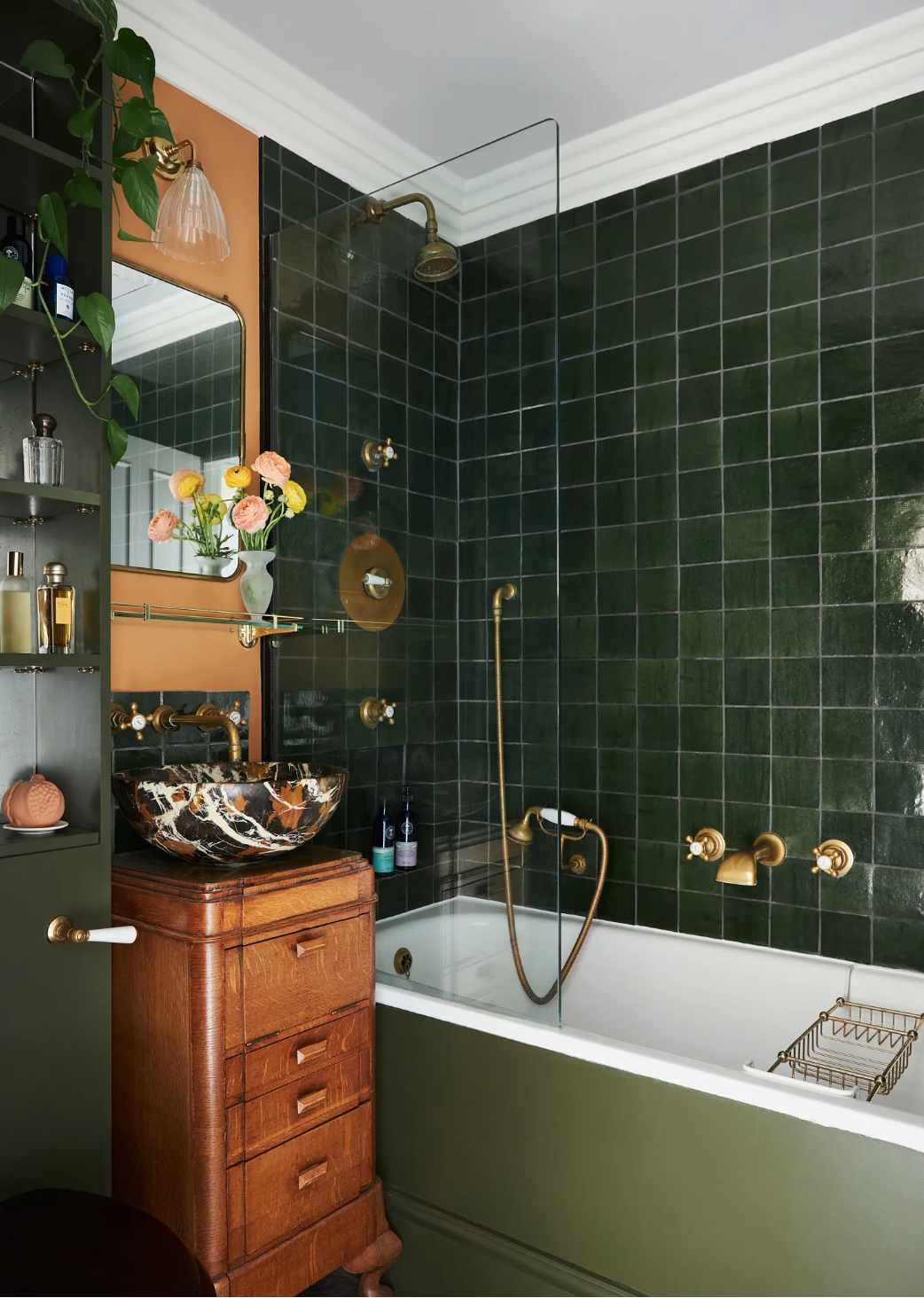 Boz Gagovski
The vanity in the bathroom, an old sewing table was bought at Criterion Auctions as a bedside table, but Lucy adapted it into a vanity by adding a brass top and a marble bowl from Ebay. Deep green zellige tiles line the walls.