Inspired by
John Fowler
Words by Ros Byam Shaw
Images from Sibyl Colefax & John Fowler and SJ Axelby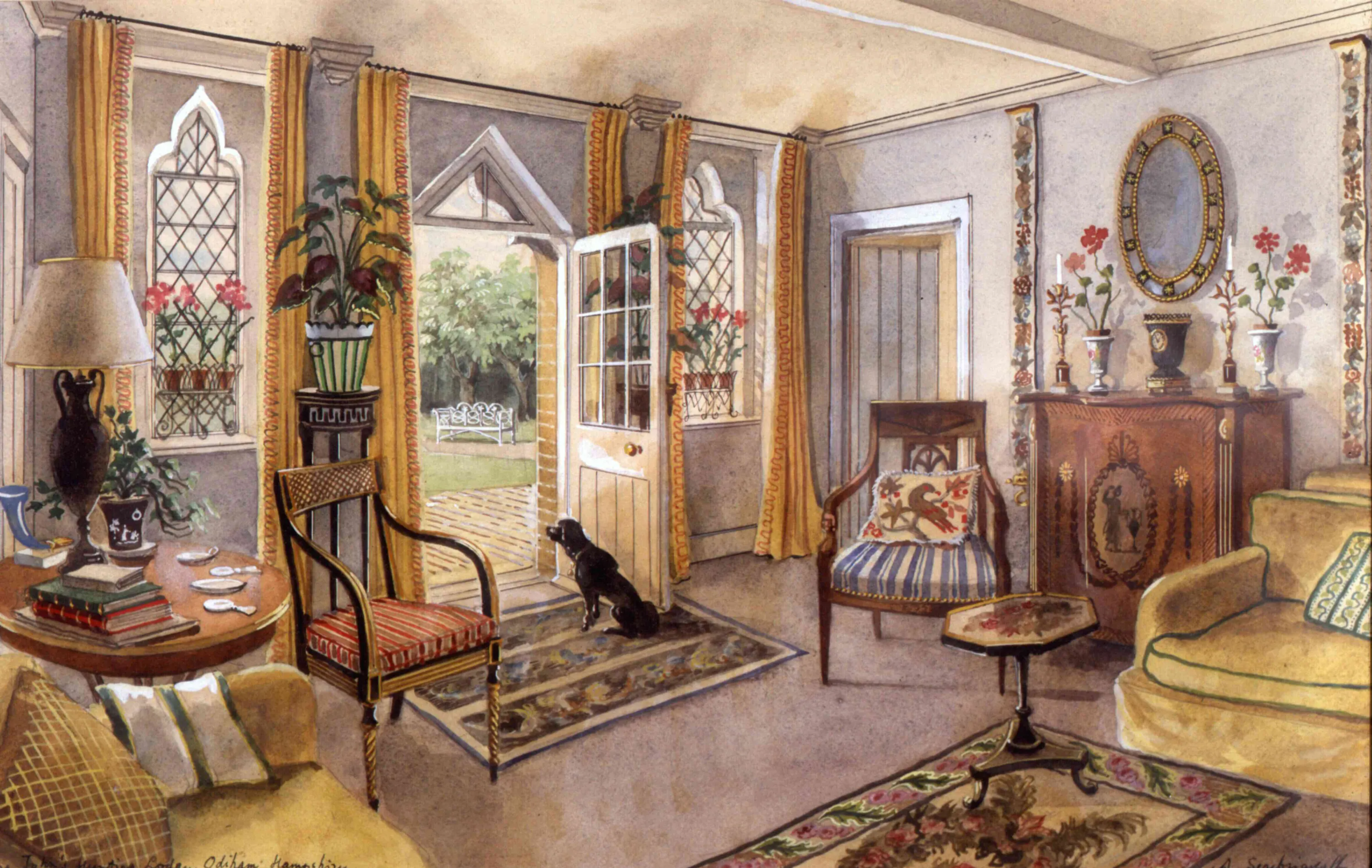 An artist's impression of John Fowler's former home, The Hunting Lodge.
As Sibyl Colefax & John Fowler launch a selling exhibition featuring many of John Fowler's exceptional antiques, Ros Byam Shaw explores the life and legacy of the legendary British decorator – discovering an intriguing polymath whose immense talent and knowledge was matched by a formidable temper and fearsome wit.
John Fowler is one of the greats. His career as a decorator spanned nearly half the last century, during which he worked on some of the most important buildings in Britain. These include Oxford and Cambridge colleges, the Palace of Holyrood, The Bank of England, the American Ambassador's house in Regent's Park, Chequers Court (the country house of the British Prime Minister) and the audience chamber of Buckingham Palace.
Fowler's name lives on in the company he founded and, nearly 50 years after his death in 1977, his inimitable 'English country house style' continues to be one of England's most successful aesthetic exports. This timeless English look pops up all over the world from Melbourne to Minnesota, with its understated mix of antique furnishings, emphasis on comfort and informality, and layering of knocked-back color and gentle pattern.
After leaving school at 16 and cutting his teeth as a decorative painter – he proved a dab hand at faking 18th century Chinese wallpaper – Fowler set up on his own, and had gained a reputation for fresh, innovative interiors by the time he joined forces with established society decorator, Sybil Colefax. Six years later, in 1944, Sibyl Colefax & John Fowler Ltd was bought by Nancy Tree (later Lancaster), a well-connected, wealthy American. Nancy was neither a designer nor decorator but she was famed for her exquisite taste, and was busy renovating her new house in London, Haseley Court. John Fowler and Nancy Tree formed a working partnership that combined John's extensive and scholarly knowledge of the history of decoration and architecture, plus his skills and experience as an artist and artisan, and Nancy's talent for conjuring warmth and informality in the midst of architectural grandeur.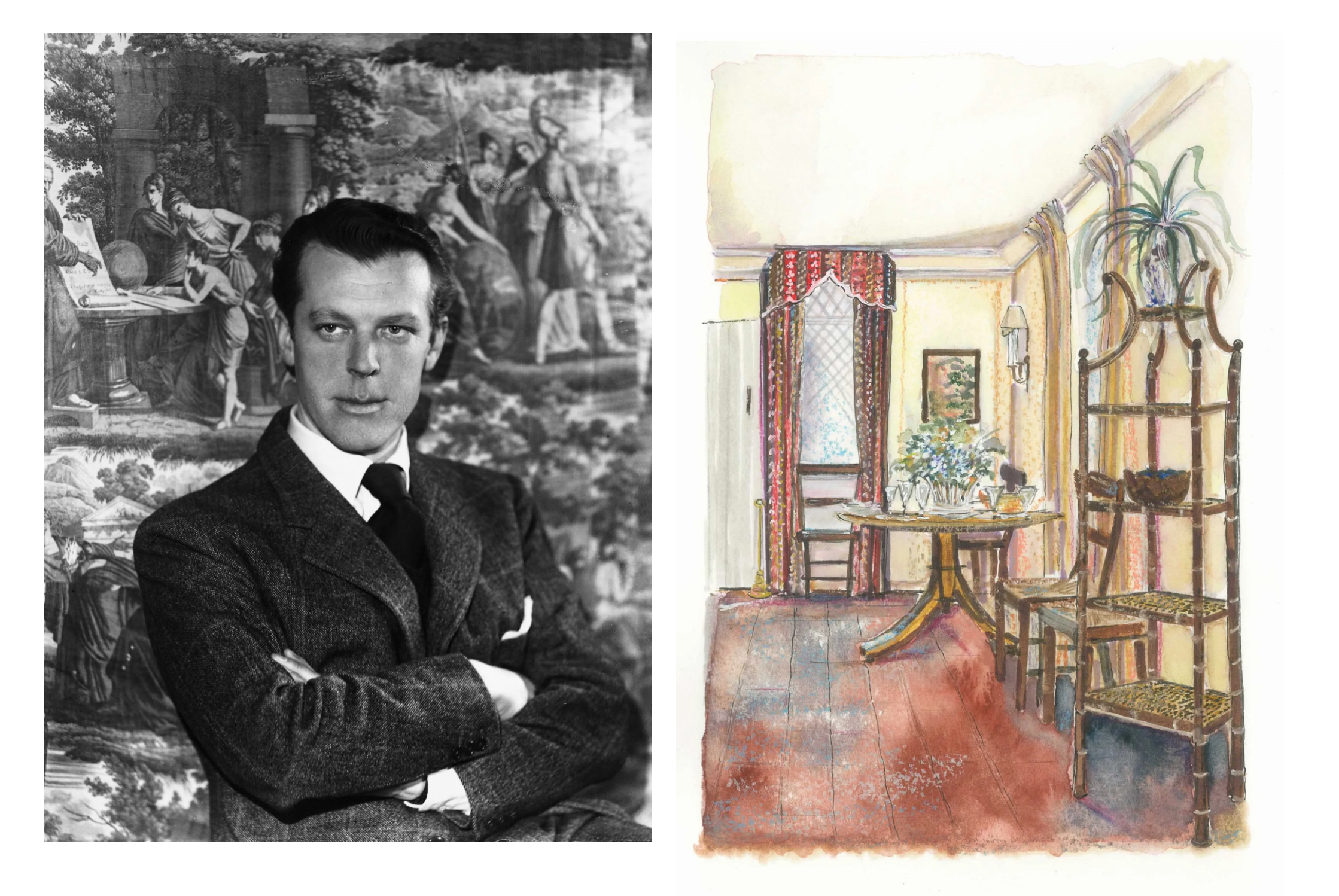 Left: John Fowler, photographed in 1945. Right: The Hunting Lodge; SJ Axelby 2022.
"He was constantly enquiring, endlessly curious, and very generous with his knowledge. He took history as his starting point, and then interpreted it to make the best of a house."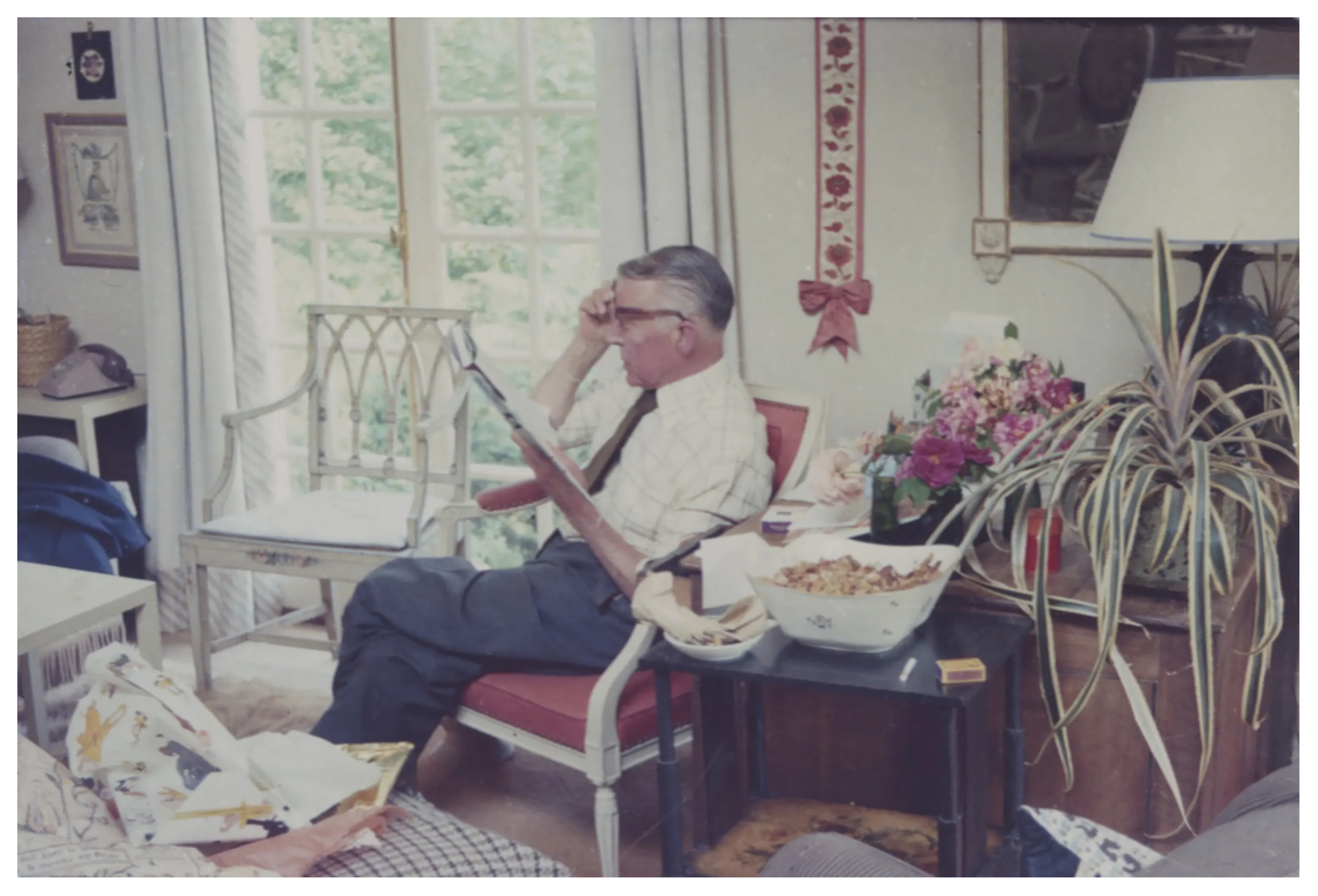 John Fowler, photographed at the Hunting Lodge.
Fowler was adored by his clients but feared by those who worked for him, to whom he could be unforgivably unpleasant. Even his collaboration with Nancy, gloriously creative though it was, was consistently fractious, such that Lady Astor famously described them as  'the unhappiest unmarried couple in England'. Imogen Taylor, his long-suffering assistant for 17 years, tells Cabana how he was once so rude to her in front of a Duchess that she walked out of the room. Fowler waited until the Duchess had left and put his head around the door of her office with the words, 'some people apologise'. No more was said.
John Hardy, archivist and Assistant Keeper at London's V&A museum, where Fowler spent long hours researching and studying, recalls how, on a visit to Clandon, he moved some creamware vases that Fowler had placed on a mantelpiece. "When John saw what I had done, he went purple with rage, and said, 'my dear boy, if you think you can decorate this house better than I can, I shall never step foot in it again'".
"We were in awe of him", explains artist Owen Turville, also at one time an assistant of Fowler's, "but we put up with the tantrums because we learned so much from him. Whether he was scraping away at layers of paint with a coin or sorting through furniture in attics, he was constantly enquiring, endlessly curious, and very generous with his knowledge. He took history as his starting point, and then interpreted it to make the best of a house".
Imogen describes her long apprenticeship as "being a slave, but doing lovely things"; by the age of 40 she was rewarded for her staying-power, was made a partner in the company, and went on to become an important decorator in her own right. And despite the ill-treatment, all three ex-assistants became his valued friends, earning the moniker 'childie' that he reserved for the people he was most fond of.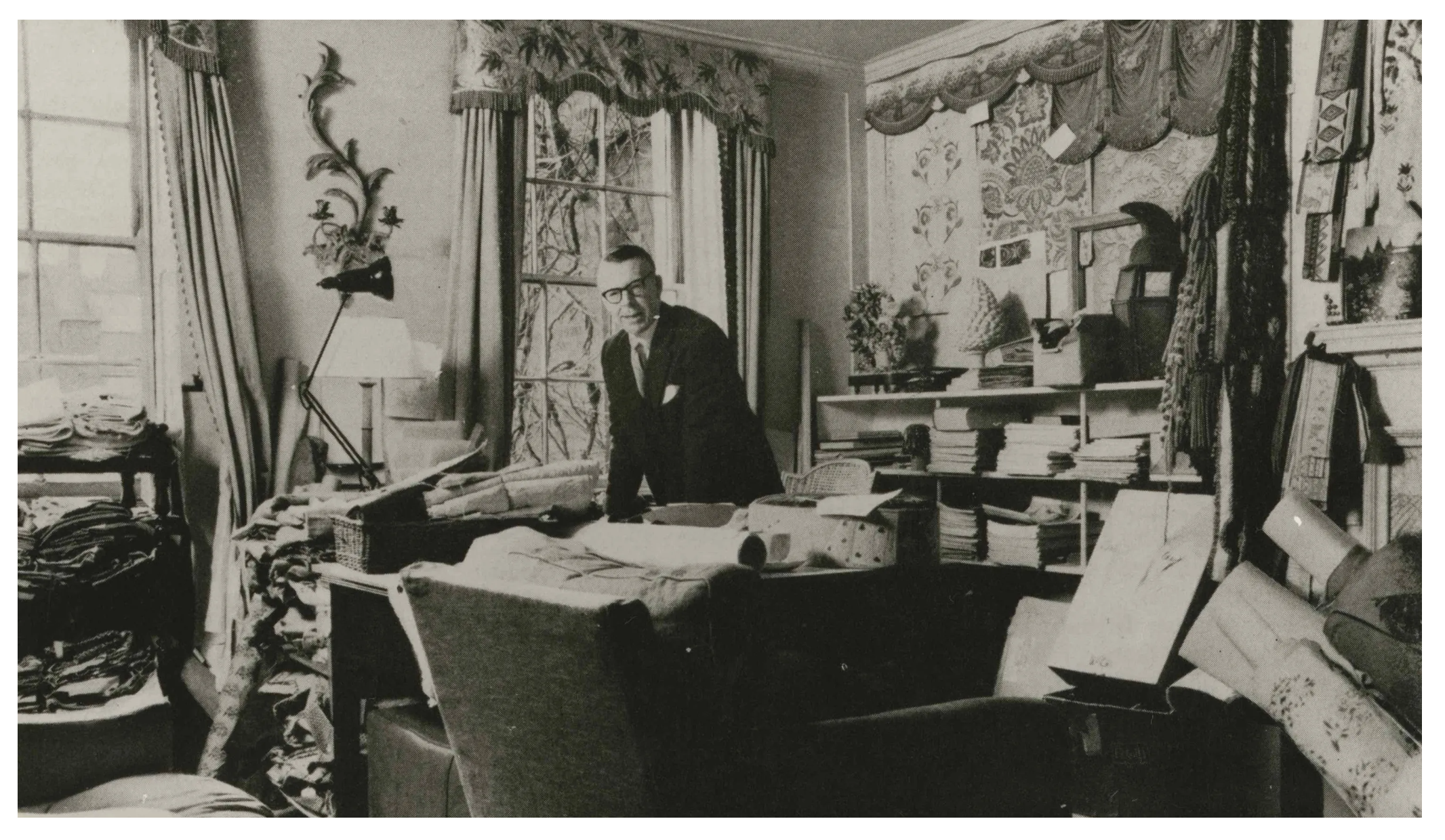 John Fowler, photographed in the 1960s.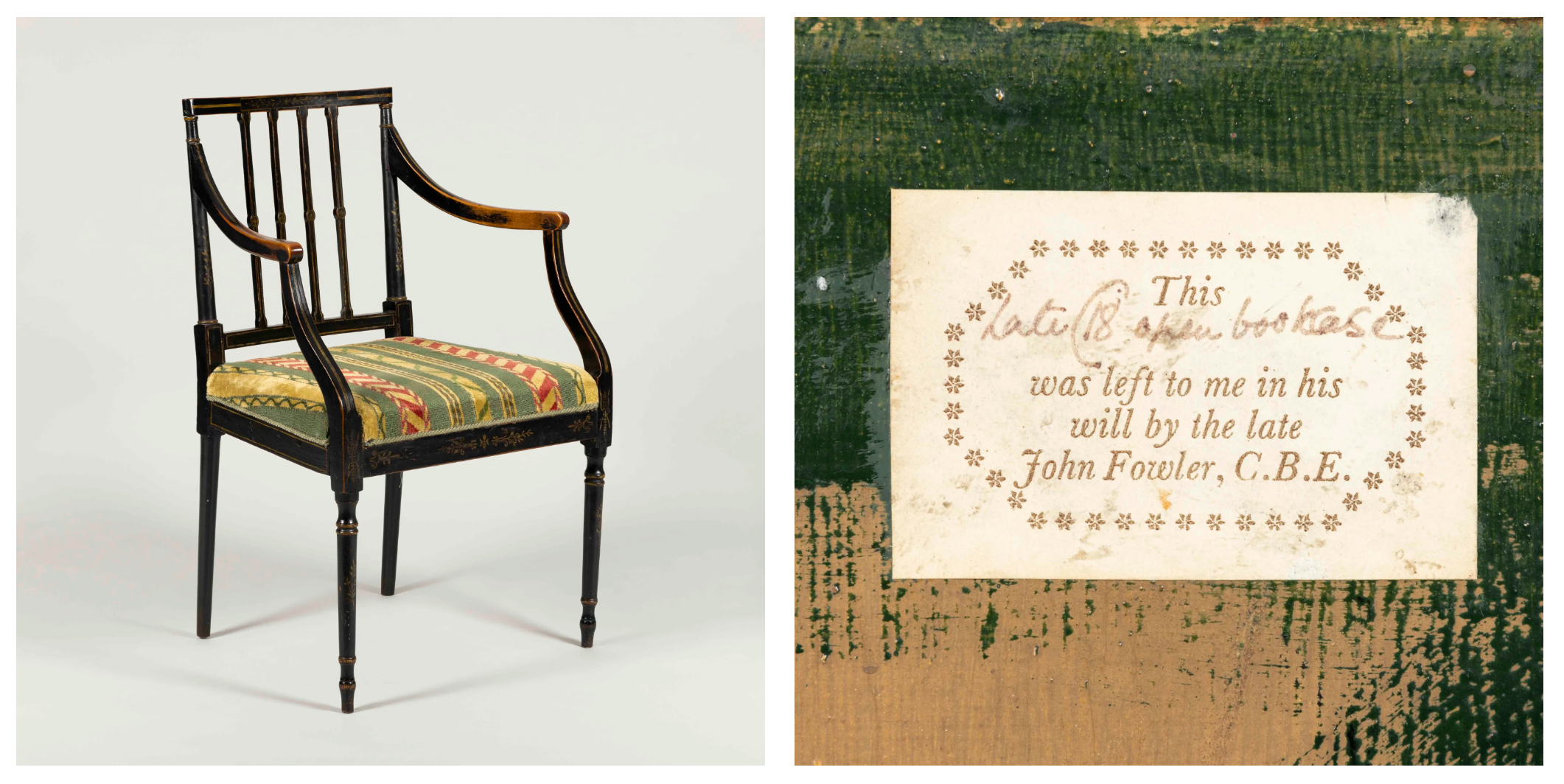 The selling exhibition includes many of Fowler's antiques bequeathed to Imogen Taylor in his will. 
Nancy's influence remained huge, and doubtless served Fowler well when, towards the end of his career, he was employed by the National Trust to breathe life into stately homes that had become impossible to live in; a few of his schemes still survive. But perhaps the best way to appreciate the essence of his style, and his decorative genius – his love of 'humble elegance' and what Roger Jones, director and head of antiques at Sibyl Colefax & John Fowler, calls his 'unerring eye for charm' – is in the diminutive rooms of The Hunting Lodge, a picturesque 18th century folly he leased from the National Trust for 30 years.
Fortunately, these interiors are well-documented and illustrate his brilliant way with color – sharp yellow upholstery against dusty pink walls, trompe l'oeil paneling in shades of cream and brown, and a notably delightful guest bedroom with walls in pale blue distemper patterned with vertical strips of a rosy wallpaper border. Guests remember the sense of small-scale luxury: "It was far more chic than shabby," says John Hardy, while Imogen Taylor always relished its "perfect prettiness".
Memories, photographs, and drawings are all that remain, but now there is a selling exhibition of more than 100 antiques from Imogen Taylor's home in France, including furnishings from the Hunting Lodge left to her in John Fowler's will. "He visited the first flat I bought about 18 months before he died and realised it was empty," she says, "so he knew it would all find a place." This is decorating history for sale. Even if you can't afford to buy, just looking at this collection is an aesthetic education.
The John Fowler and Imogen Taylor Collection – a selling exhibition runs until 22 December 2022, Sibyl Colefax & John Fowler, 89-91 Pimlico Rd, London. Enquiries: showroom@sibylcolefax.com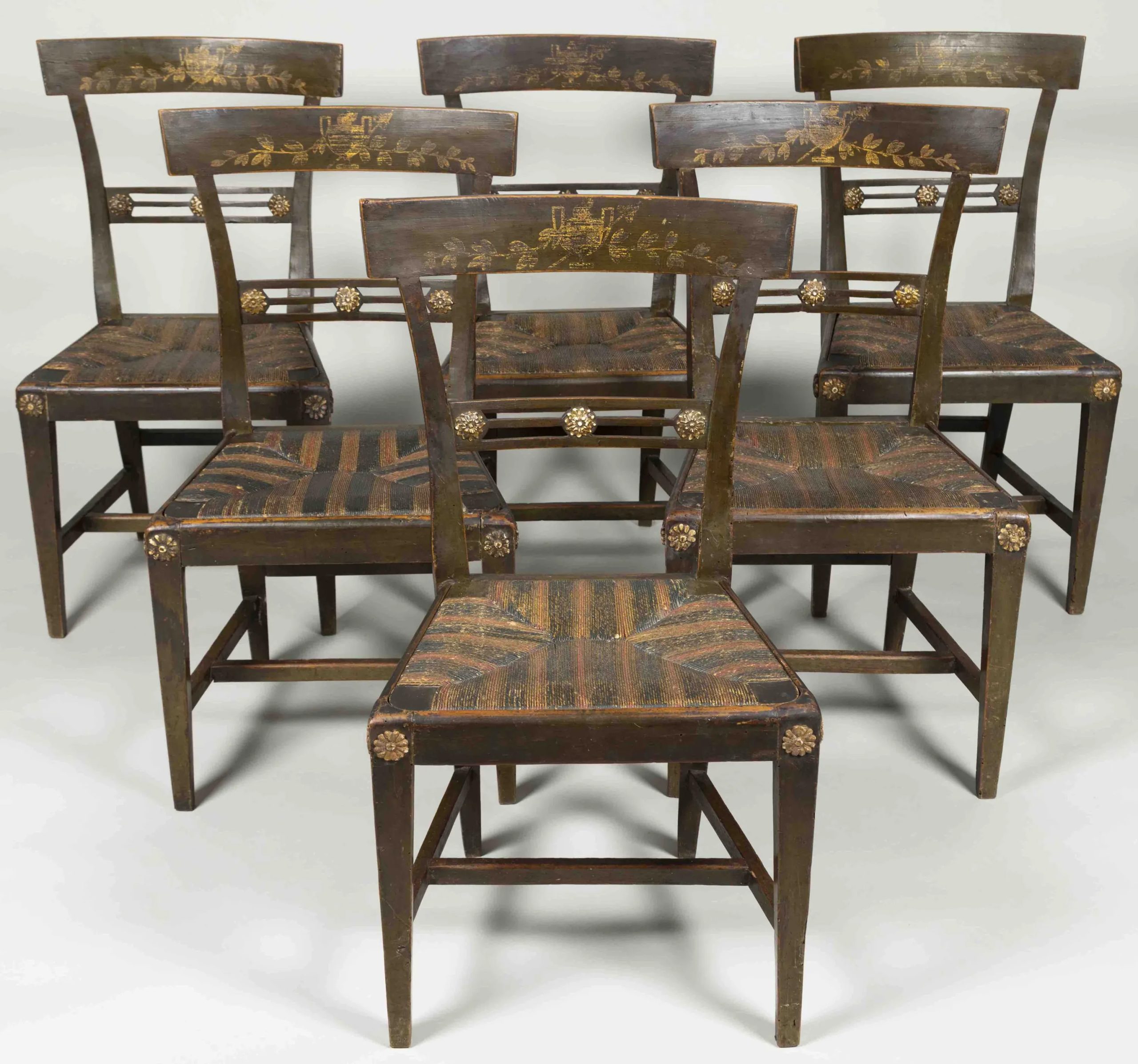 The selling exhibition includes many of Fowler's antiques bequeathed to Imogen Taylor in his will.