The Art of Plaster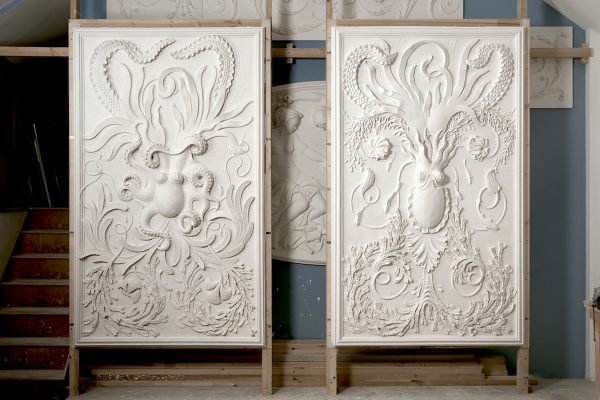 Opening during London Craft Week, this exhibition will be set amidst our Pimlico Road, London showroom.
The Art of Plaster will present a collection of Geoffrey's recent work, including new pieces specially created in collaboration with our decorators.
Key pieces include two large, sculptural mirror frames and a spectacular hand modelled stucco overmantel with ribbons and oak leaves. Other works on display will include the large-scale Sea Garden and Flower Garden panels and several smaller flower sculptures with an abundance of dahlias, roses, tulips and peonies.
Sibyl Colefax & John Fowler has a long history of commissioning bespoke works for their clients from the United Kingdom's finest craftspeople. Commissioned for private residential projects such items have from time to time also enlivened the firm's showrooms.
During London Craft Week there will also be a display of tools and materials which demonstrate the processes and techniques involved in making the work, and sketchbooks showing how Geoffrey's designs are developed.
The exhibition runs for a little under three weeks with many of the works for sale.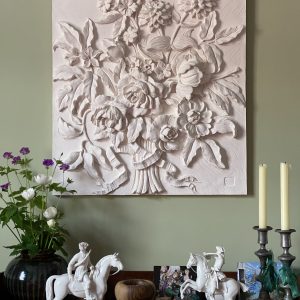 Exhibition dates:
Monday 4th October – Friday 22nd October 2021
Monday to Friday, 9.30am – 5.30pm
Saturday 9th October, 10am – 3pm
Free admission