Lucy Hammond Giles
– Dream House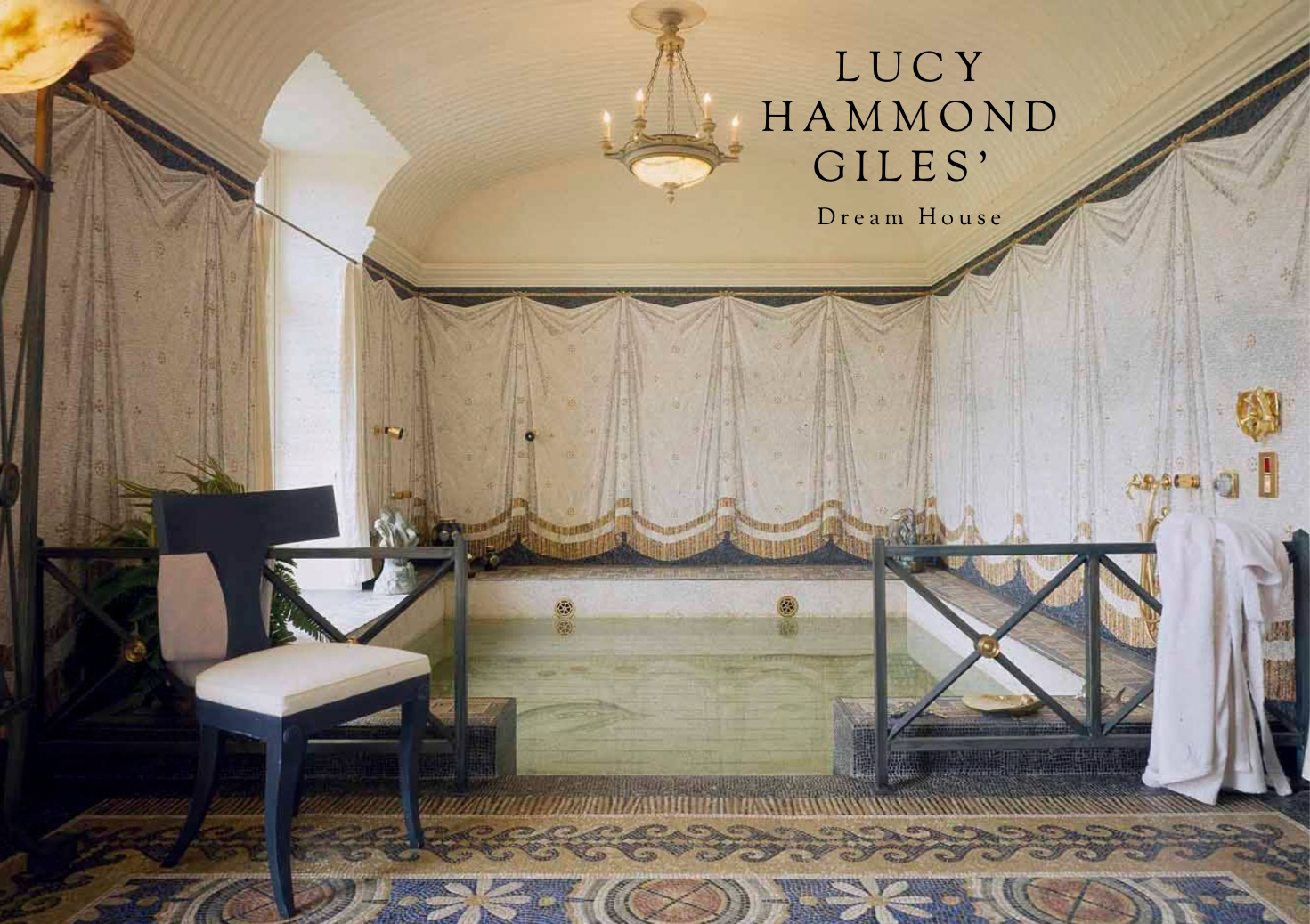 Dream House has got off to an impressive start. This week we have designer extraordinaire Lucy Hammond Giles. She is one of the esteemed designers working under the Sibyl Colefax & John Fowler name. Many of her projects will be picked by swathes of people imagining their own 'Dream House'. Not to mention her most recent project, which featured on the January cover of House & Garden, quite the dreamiest of houses. Anyway, I was so chuffed for Lucy to take part, and her picks make up the grandest of modest dwellings, room enough to entertain (and then some) but no room for house guests – the perfect house.
To Follow Lucy, Click Here & To See The Sibyl Colefax & John Fowler Website, Click Here,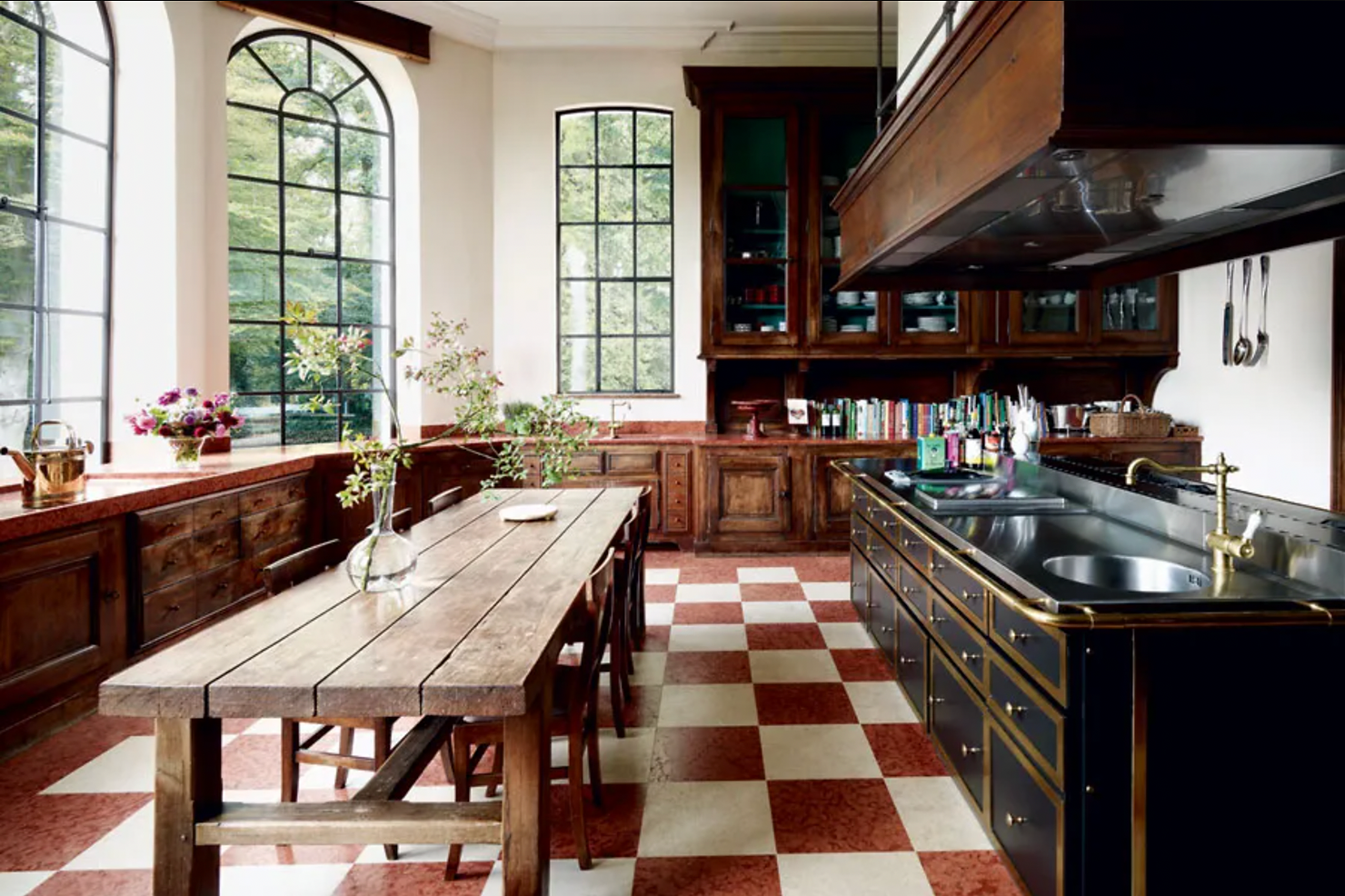 The Kitchen of a Belgian Château by Axel Vevoordt from Architectural Digest Photography Laziz Hamani
Kitchen
There is a very reassuring solidity to this kitchen in a Belgium Chateau by Axel VervoordtAxel Vervoordt, whose design is a force for good in the world. The way he handles large spaces and light is masterful; here, the scale of each element balancing perfectly with the windows. My house has low ceilings – this really is vicarious living. My mother used to have a red kitchen floor, and it's a great grounding colour and oddly neutral. As well as breaking up the space, the checks bring the light walls and dark units together and stop the whole thing from being too sombre.
---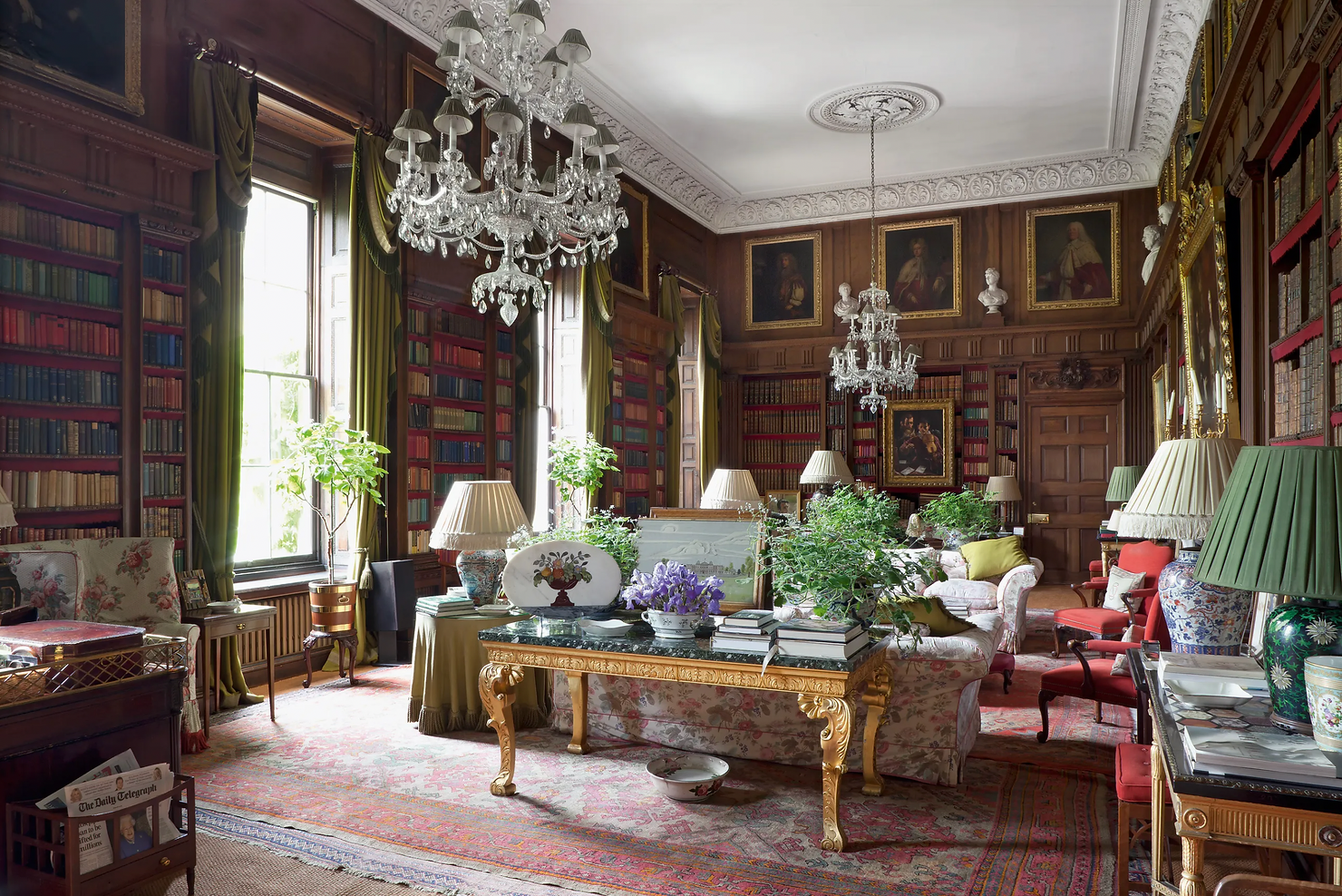 Badminton House Photographed for House & Garden in 2014 by James Fennell
The Sitting Room
Hmm, so technically a library (at Badminton House, Sibyl Colefax & John Fowler in 1984), but I think I'd manage with this as my Sitting Room. Those high ceilings! The expanse of walls for books and paintings! The light! The combinations of pattern and texture, and of the grand with the informal, make it eminently liveable – I can imagine the smell of the books, the pelargoniums and polish. My only worry is that I'd fall asleep on the sofas rather than finishing all the books.
---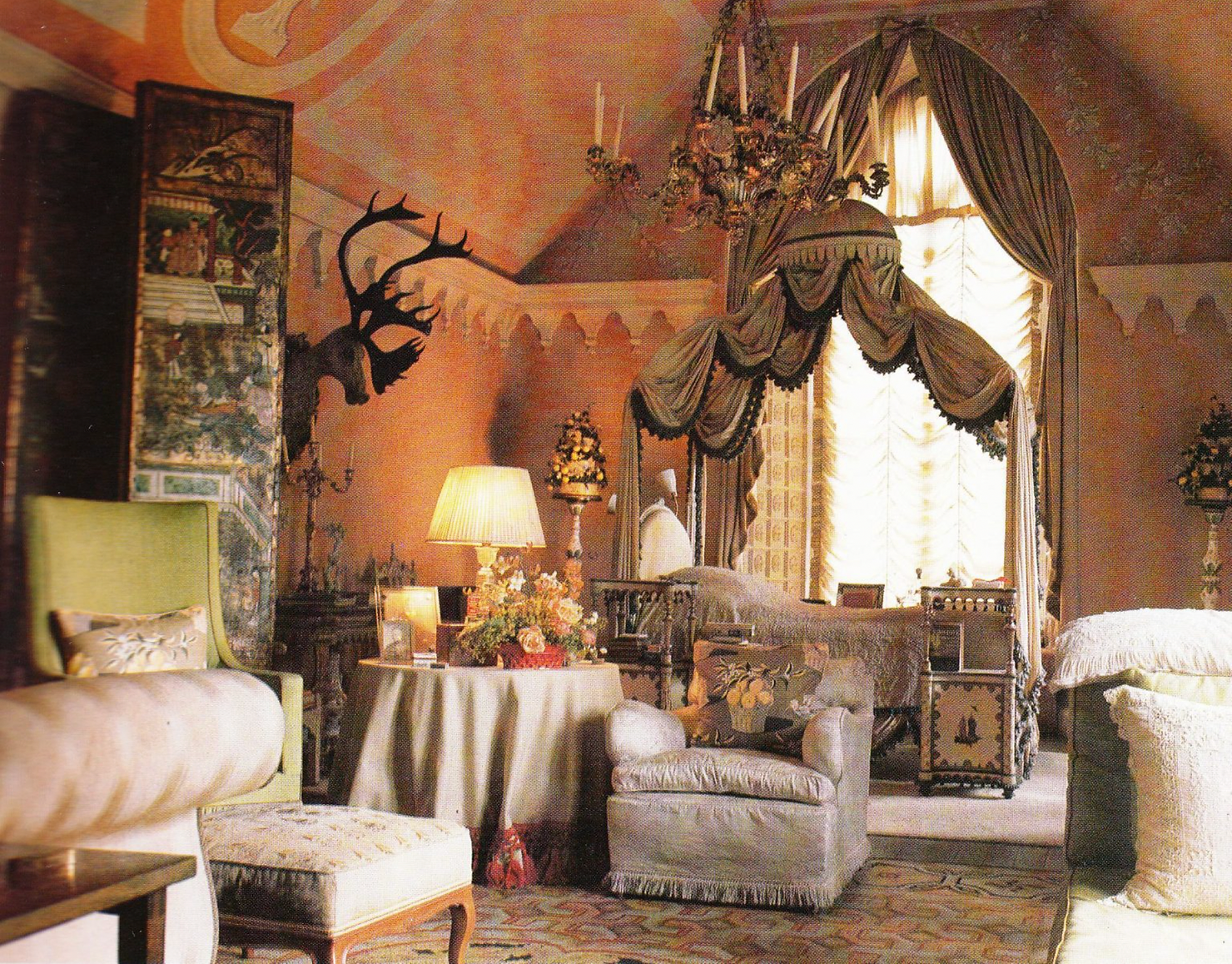 Nancy Lancaster's Bedroom at Hasley Court
Bedroom
I nearly chose Nancy Lancaster's Yellow Room for both Sitting AND Kitchen (there was the tiniest kitchen behind the pair of double doors at the end of the room) – it was a space I knew and loved when our offices were in Brook Street. Nancy's bedroom at Hasley Court has similarly high ceilings, large windows and lovely paintwork – although this yellow is more peach. Again, the confident handling of volume and light ensures the scale isn't overwhelming but comfortable—a refuge of a room.
---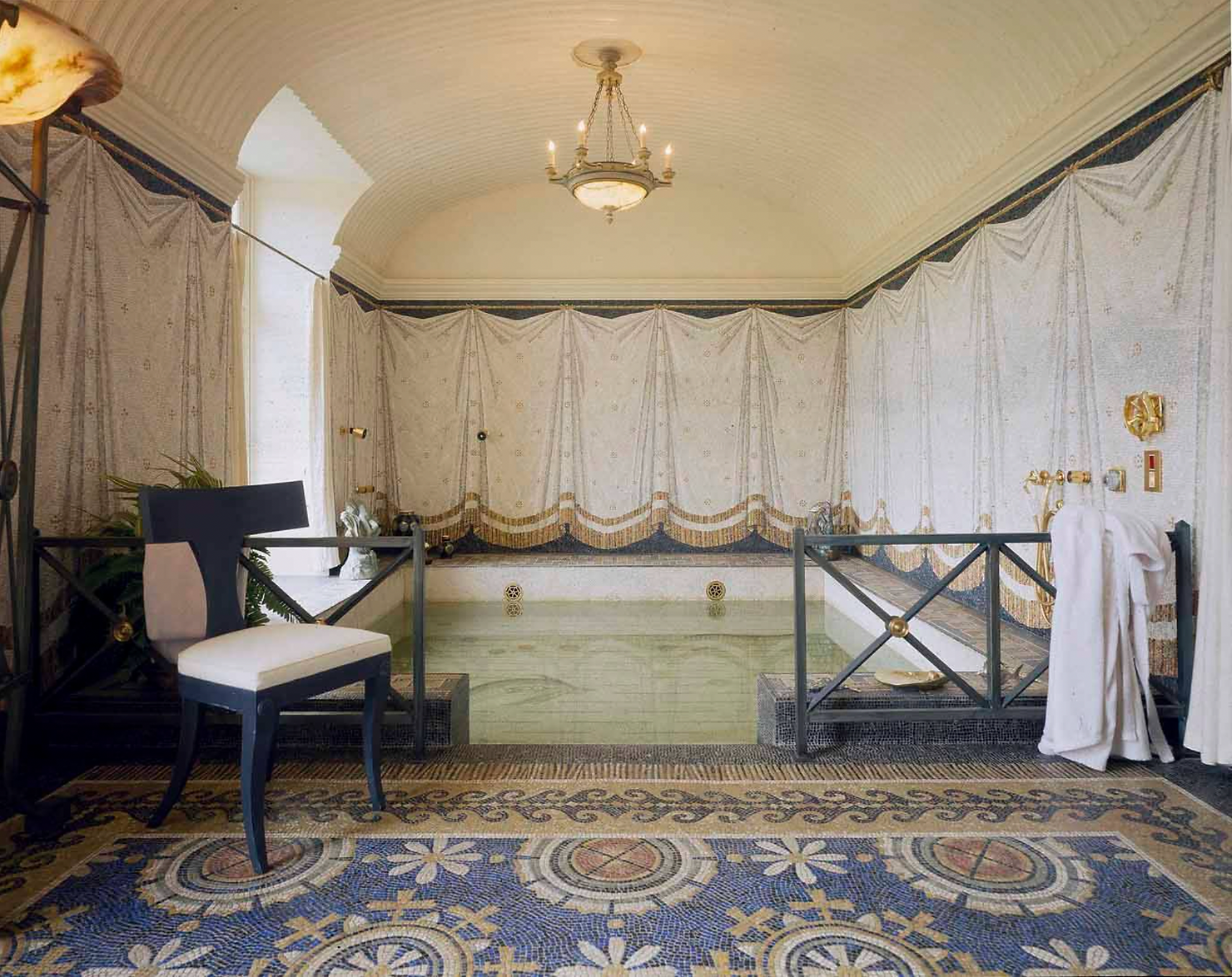 Renzo Mongiardino Bagno di Casa Setton a Parigi, by Massimo Listri
Bathroom
This bathroom is by Renzo Mongiardino, and yes, it has a massive POOL in it, with jets. And a wonderfully barrel-vaulted ceiling. I love the fabric – but the drapery around the walls isn't real; it's mosaic, inspired by both a French 1820s wallpaper and Byzantine mosaics from a church in Ravena, and the floor is not a carpet; it's also mosaic. It's all just wonderful – the contraction of looking soft but being hard very much appeals.
My other favourite bathroom – although it's not a room – is in New Zealand. It feels like a dream; that I could fit in that bath with both my boys listening to the birds in the gloaming by a river. Dream rooms sometimes don't even need walls, just to be spaces in which to be content.