BAMIYAN AND BEYOND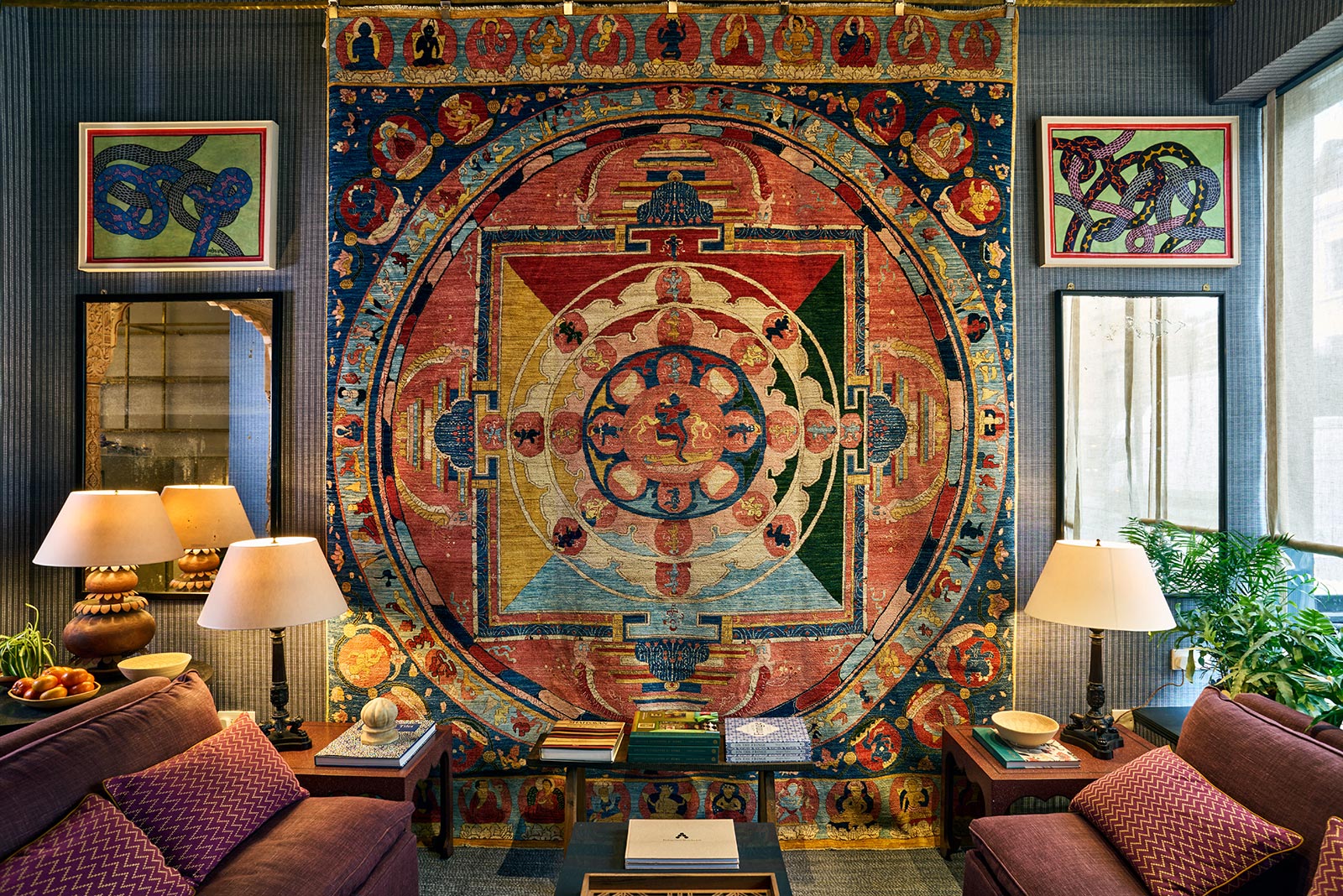 Curated by Lucy Hammond Giles, Associate Director at Sibyl Colefax & John Fowler, Christopher Farr's latest installation celebrates a new collection of rugs in partnership with Turquoise Mountain.  Founded by His Majesty King Charles in 2006, Turquoise Mountain's mission is to revive traditional crafts and areas of historic interest, providing jobs, skills and a renewed sense of pride in locations where cultural heritage is under threat.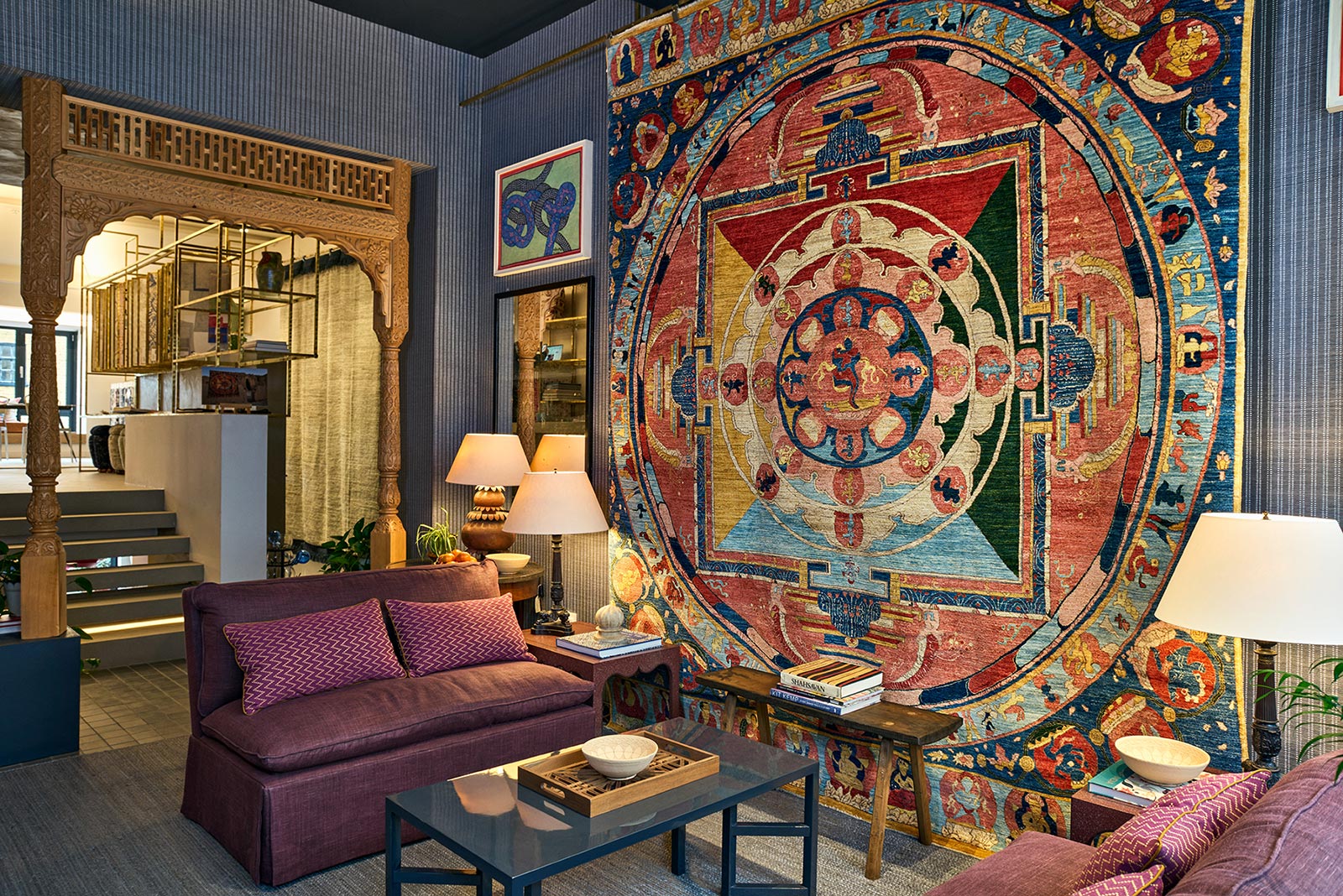 Lucy was delighted to be asked to decorate the front of Christopher Farrs Kings Road showroom using these wonderful rugs inspired by Mandala designs and each of which has been crafted by Bamiyan women weavers and illustrate the strong cultural heritage of Afghanistan and its centuries-old weaving communities.
The 'Bamiyan and Beyond' journey begins with windows partially obscured with sheer fabric blinds and clusters of leaves, leading through to a heavily carved wooden structure inspired by courtyard arcades from traditional houses in the Old City of Kabul.
Lucy explains "Depths of colour were introduced through a Christopher Farr Cloth seagrass wallcovering in cobalt and sofas upholstered in oxide red linen, tying into the palette of the rugs and giving them a fantastic backdrop. We used furniture, both modern and antique, by Sibyl Colefax & John Fowler to create space for collected objects and books of interest,"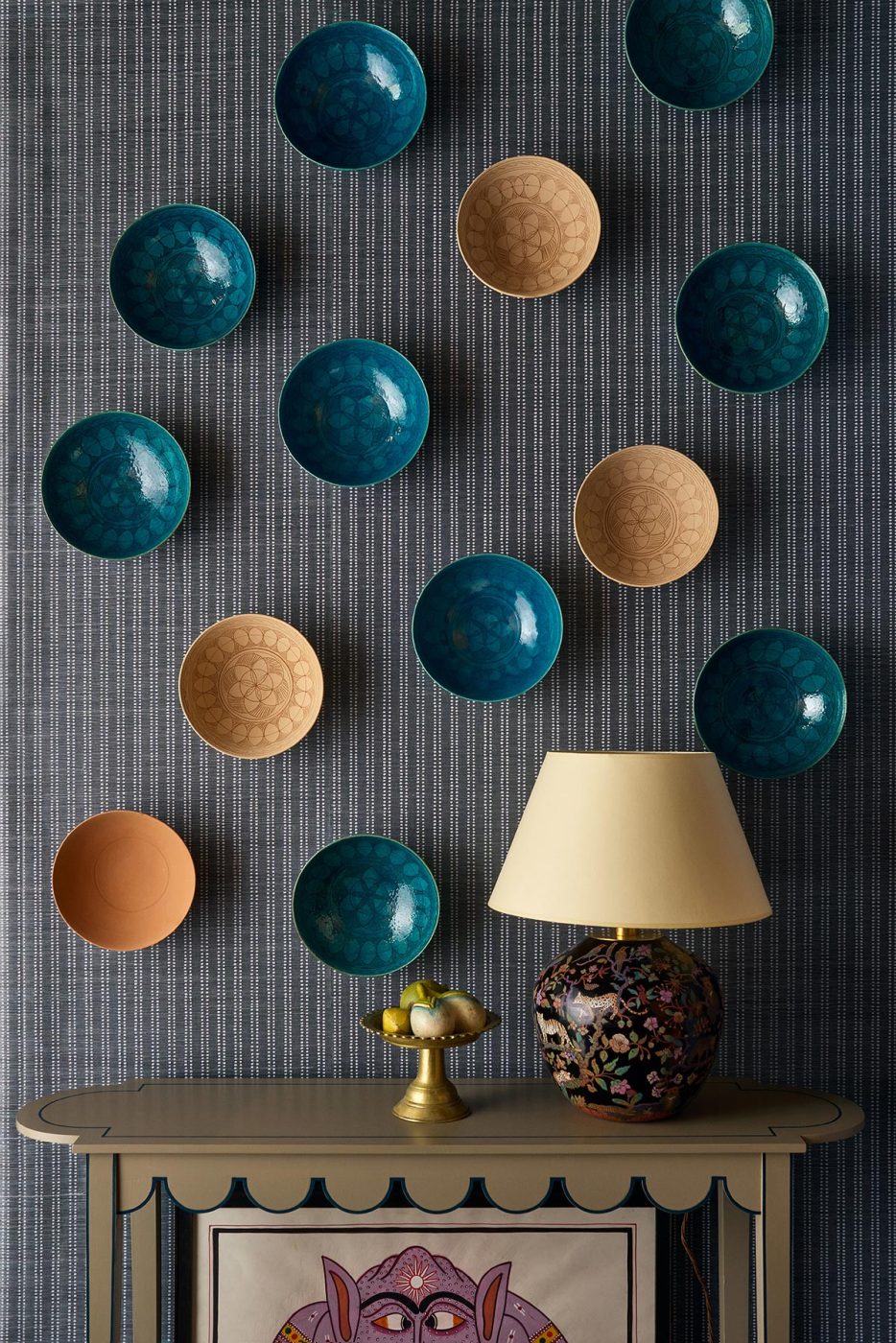 "Bowls from the famed village of Istalif near Kabul hang on the walls, showing the full bowl making process.  The initial fired bases, those incised with patterns, and finally the end product glazed in fabulous traditional turquoise.  We have made cushions in panels woven by the women of Myanmar.  These outstanding crafts continue to be of the highest decorative value and add crucial layers to our homes both in terms of how they look and how they make us feel".
We invite you to visit the Christopher Farr King's Road showroom in London, settle down on the sofas and experience some of the cultural heritage of Afghanistan and the Levant.
The installation will be on display until the end of May.