The John Fowler & Imogen Taylor Collection
A Selling Exhibition
2ND – 22ND DECEMBER, SIBYL COLEFAX & JOHN FOWLER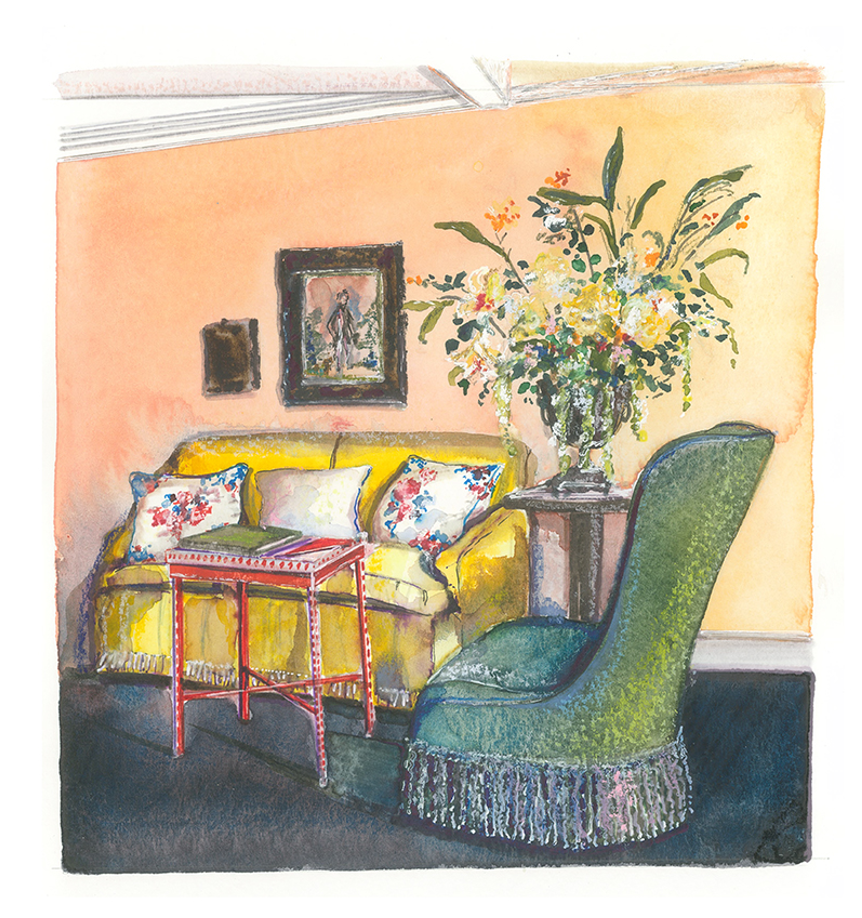 The Hunting Lodge sitting room, a painting by SJ Axelby based on a photograph by Horst P Horst. 
The collection will include the Friar's chair and Portrait above sofa.
This December, Sibyl Colefax & John Fowler will host a sale of over 100 antiques belonging to Imogen Taylor, more than 30 of which furnished John Fowler's iconic residence, The Hunting Lodge.
Described by Deborah, Duchess of Devonshire as 'the Prince of Decorators', Fowler changed tastes and set fashions like no other of his generation, evolving a look that continues to inspire to this day.
In the 1940's, Fowler and Nancy Lancaster – who had bought Lady Sibyl's share of the business – would go on antiques buying trips.  Most were sold in the Brook Street showroom, but choice pieces were kept for their own homes.
"Fowler had the most exquisite taste, and the 1940's were an exceptional period to buy in," explains Roger Jones, head of the Antiques Department at Sibyl Colefax & John Fowler.
In 1947, Fowler purchased The Hunting Lodge, an 18th century folly, his home until his death.  He decorated it, he said, in a way that was "utterly unpretentious, very comfortable, with a veneer of elegance and informality and the feeling that one can sit down anywhere without having to move a chair."
Most weekends, Fowler hosted parties, with guests including the Redgraves, Vivien Leigh, Hardy Amies and Horst P Horst, who photographed the house in 1965.
Imogen Taylor joined the company in 1949 and was Fowler's assistant for 17 years, learning the art and craft of decorating by his side.  By 1968, Imogen was a partner, an esteemed decorator in her own right, remaining with the firm until her retirement in 1999 – a remarkable 50 years.  "John bequeathed the contents of The Hunting Lodge to his friends, and I was lucky enough to be a recipient.  I purchased a house in Burgundy on my retirement, which I filled with pieces of furniture and pictures that John left me," explains Taylor, who is now selling the contents.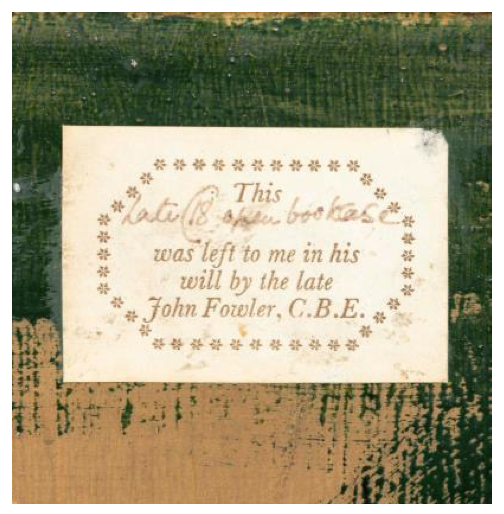 "It is the first sale of its kind, the rarest of opportunities to purchase Fowler's collections," explains Roger Jones.
In addition to items bequeathed by Fowler, the sale includes Taylor's furniture, art and smaller ceramics, "ideal for those keen to hold a piece of decorating history," finishes Jones.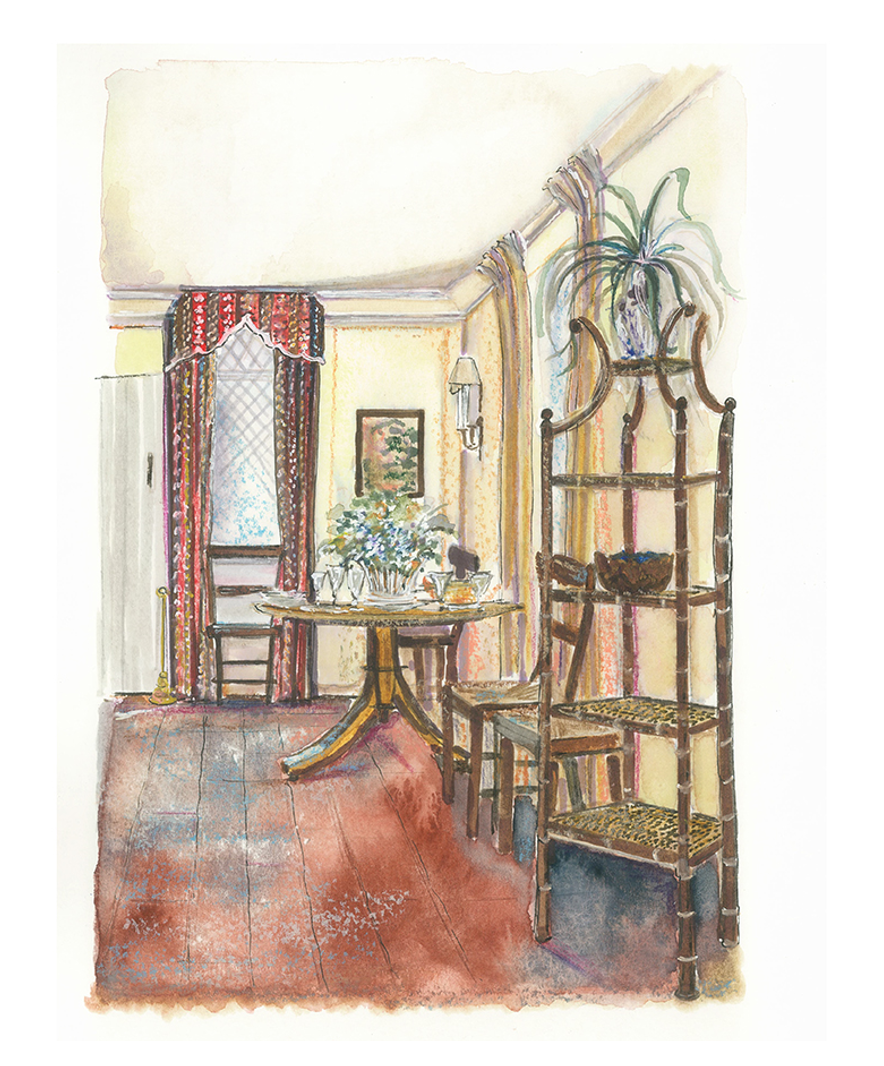 The Hunting Lodge dining room, a painting by SJ Axelby based on a photograph by Derry Moore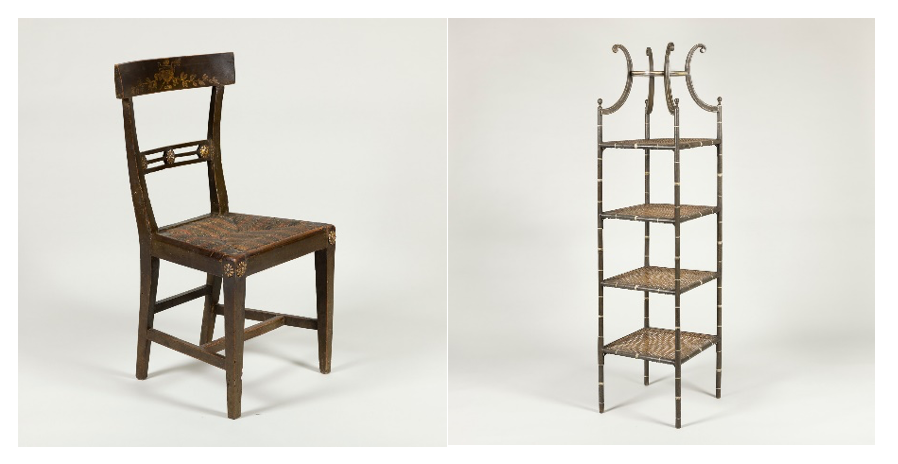 Sale highlights from The Hunting Lodge include almost the entire contents of the dining room, from Fowler's tilt top fruitwood dining table and North European marble top walnut commode, both circa 1800, to a set of six Italian painted rush chairs, circa 1810, as well as a Regency etagere with caned shelves and simulated bamboo paintwork and the tole verriere displayed upon it.
Further furniture highlights include a French Directoire period mahogany fall front bureau with marble top, circa 1800, a small painted Regency waterfall bookcase, an early Regency mahogany writing table, an early 18th century wing chair upholstered in a green velvet as well as Fowler's own Friar's chair in green velvet with a green bullion fringe (a model still available to order from Sibyl Colefax & John Fowler).
Decorative highlights range from three 17th century hand-covered botanical copper plate engravings, a pair of 19th century bird feather pictures, a pair of 18th century Chinese reverse paintings on glass in original frames, an early 19th century French tole wall clock and a 19th century green-painted tea tin lamp to a pair of very large black and white Staffordshire spaniels and an 18th or 19th century pottery hand-warmer, reflecting Fowler's remarkable eye and penchant for 'humble elegance.'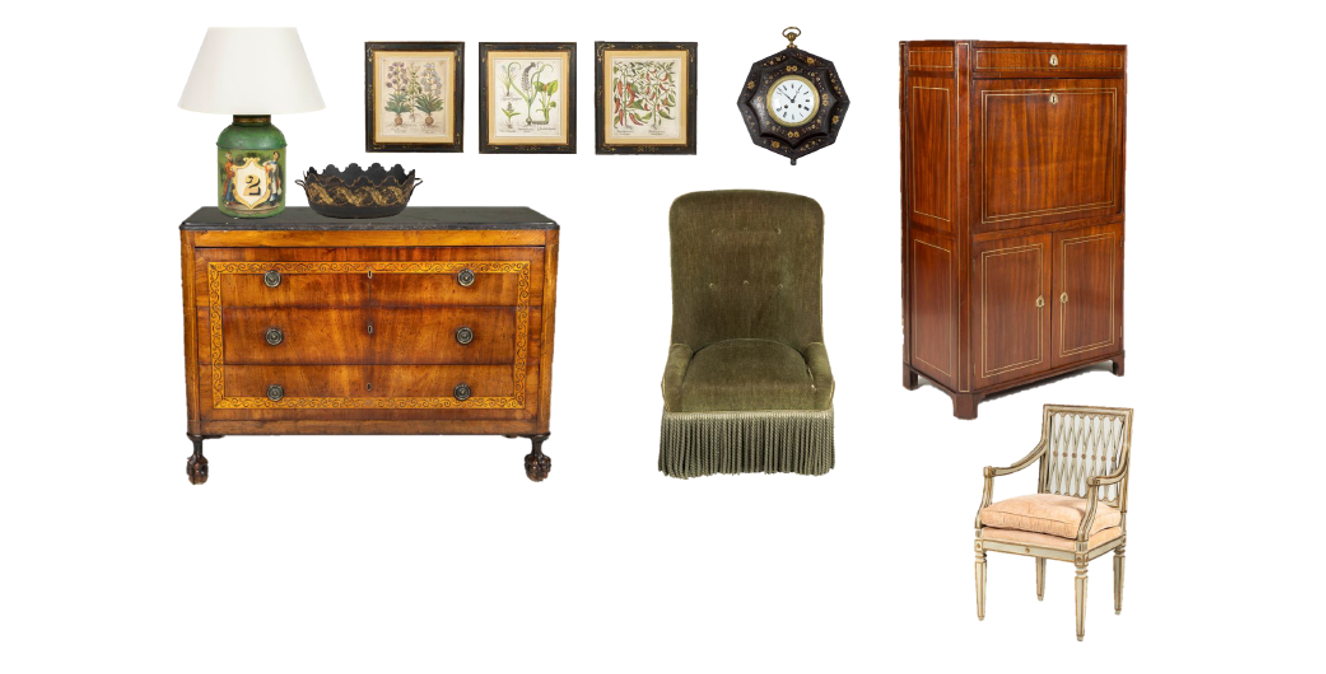 In addition to items bequeathed by Fowler, the sale includes Taylor's circa 1780 black and gilt japanned elbow chair with rush seat and cushion painted by George Oakes, several George III painted chairs and a pair of late 18th century grey-painted and gilt elbow chairs, pictured right.
Everything will be on display in the showroom 2nd – 22nd December on Monday to Friday 9.30am until 5.30pm and on Saturdays from 10.00am – 3.30pm.