All the award winners at the House & Garden Awards 2023
The House & Garden Awards are back – here's who won what on the night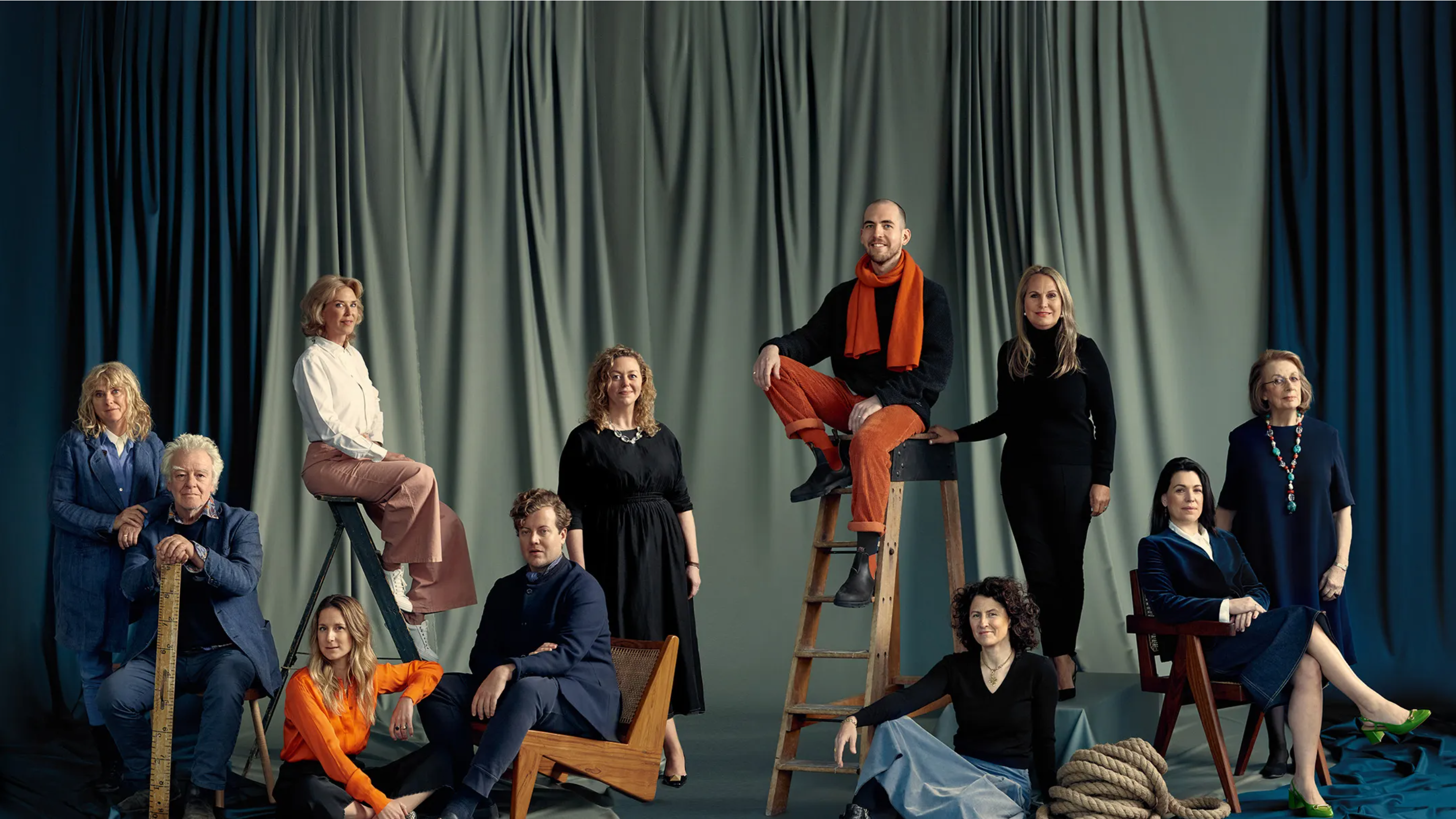 At House & Garden, we are always on the lookout for who is making waves in the design industry. The Design Awards are our way of recognising these leading figures. We are thrilled to reveal this year's winners, celebrating the creative, talented and innovative individuals, in 10 different categories, who have impressed us most. These are people who are making their mark on the industry, whether through a lifetime of work or a star on the rise.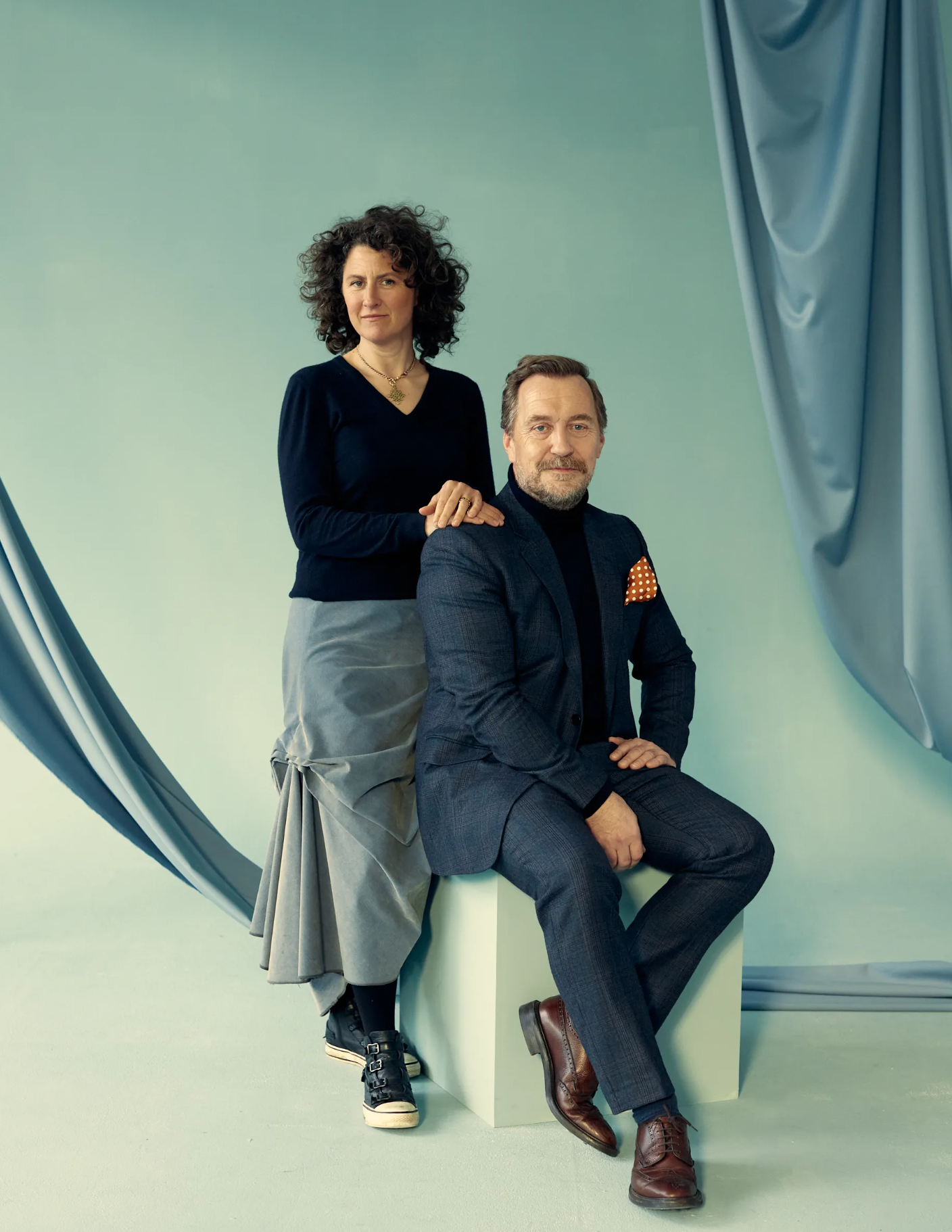 Sophia Spring
Interior Designer of the Year, sponsored by Farrow & Ball: Lucy Hammond Giles
In the January 2023 issue of House & Garden, we featured a handsome yet whimsical family home in west London – the first of two projects by Lucy Hammond Giles that we have published in the magazine this year. In the article, Lucy – who is associate director at Sibyl Colefax & John Fowler – was described as 'engaging, creative and funny, and does not take herself a bit seriously'.
But while it is true that personality and being personable can get you far in life, they do not make you a great interior designer. They do not make you Interior Designer of the Year. What does is the ability to come up with the goods; to deliver exceptional spaces that exceed a client's brief; to surprise and delight the editorial staff of a magazine who might feel they have seen it all. She did just that in the hard-working South of France holiday house we featured in the June 2023 issue, where she teamed drama with easy-breezy Provençal style for another young family. It is no surprise that Lucy is asked to decorate houses all over the world, or that her clients turn to her again and again, as they take on new projects or want help bringing their homes to the next stage in their evolution.
Lucy is pictured with Patrick O'Donnell, Brand Ambassador for Farrow & Ball
sibylcolefax.com | @lucyhammondgiles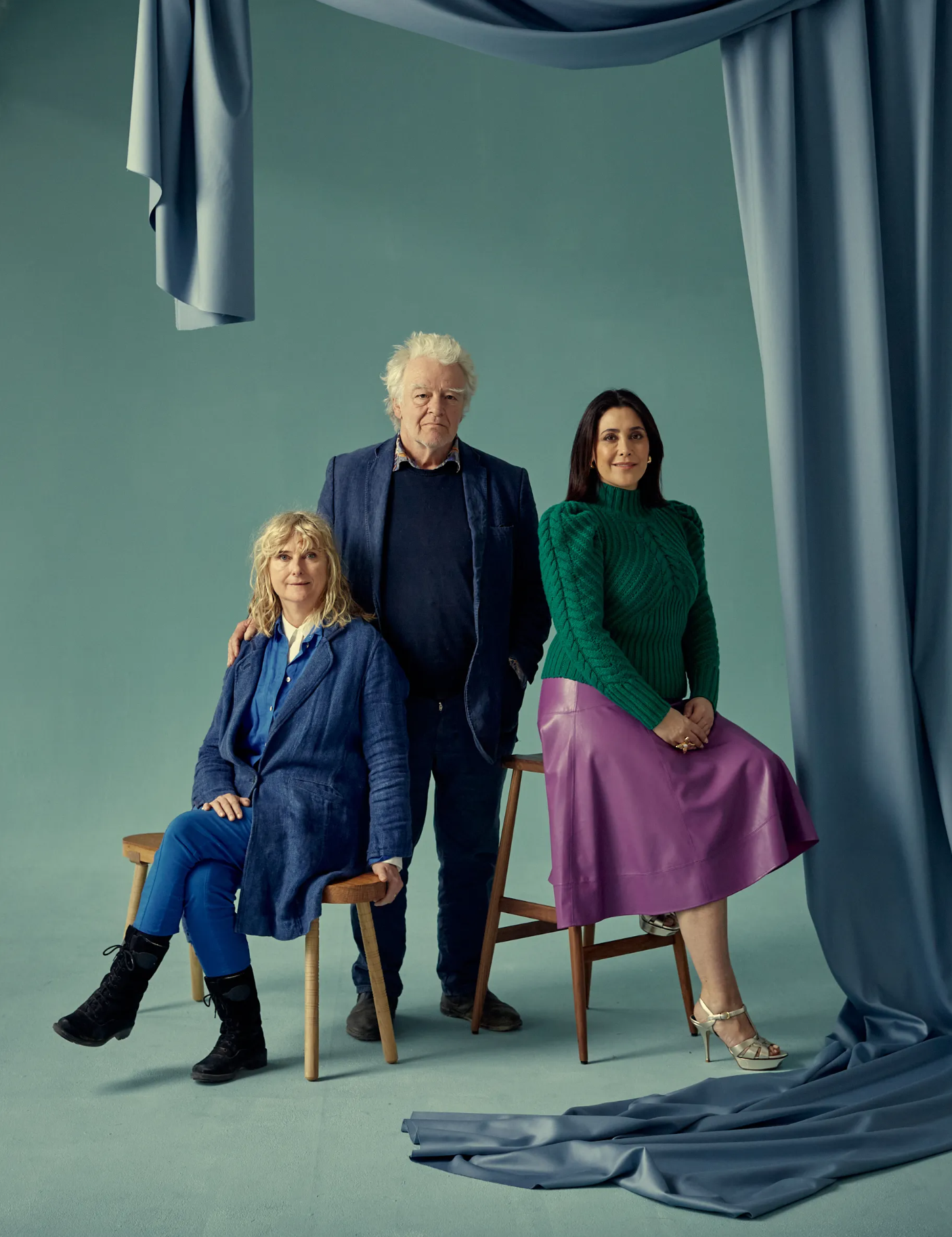 Sophia Spring
Garden Designer of the Year, sponsored by Cole & Son: Isabel and Julian Bannerman
The Bannermans have been a household name in the world of garden design for many years. Known for their wonderfully theatrical, flower-filled gardens, this husband-and-wife team are hands-on gardeners as well as designers, their lives inextricably linked to the seasonal shifts of their own land. Wherever they have lived, they have worked tirelessly to make their own incredible gardens – from atmospheric Hanham Court, near Bristol, to the romantic Trematon Castle in Cornwall and, finally, to their most recent home, Ashington Manor in Somerset, where their new garden is an exciting work in progress. If you commission them to design a garden, you know you will end up with something unique but somehow Bannermanesque.
Wild, ebullient planting schemes filled with scented flowers are countered by wooden obelisks, while fabulous garden buildings or follies can lift a garden from the ordinary to the sublime. In the June 2023 issue, we featured a garden the pair designed in the heart of a sleepy Oxfordshire village, where tangles of roses grown in meadow grass are tamed by towering yew domes. Their gardens are like extraordinary stage sets – yet they are also very much designed to be lived in and enjoyed.
Isabel and Julian Bannerman are pictured with Marie Karlsson, Creative and Managing Director at Cole & Son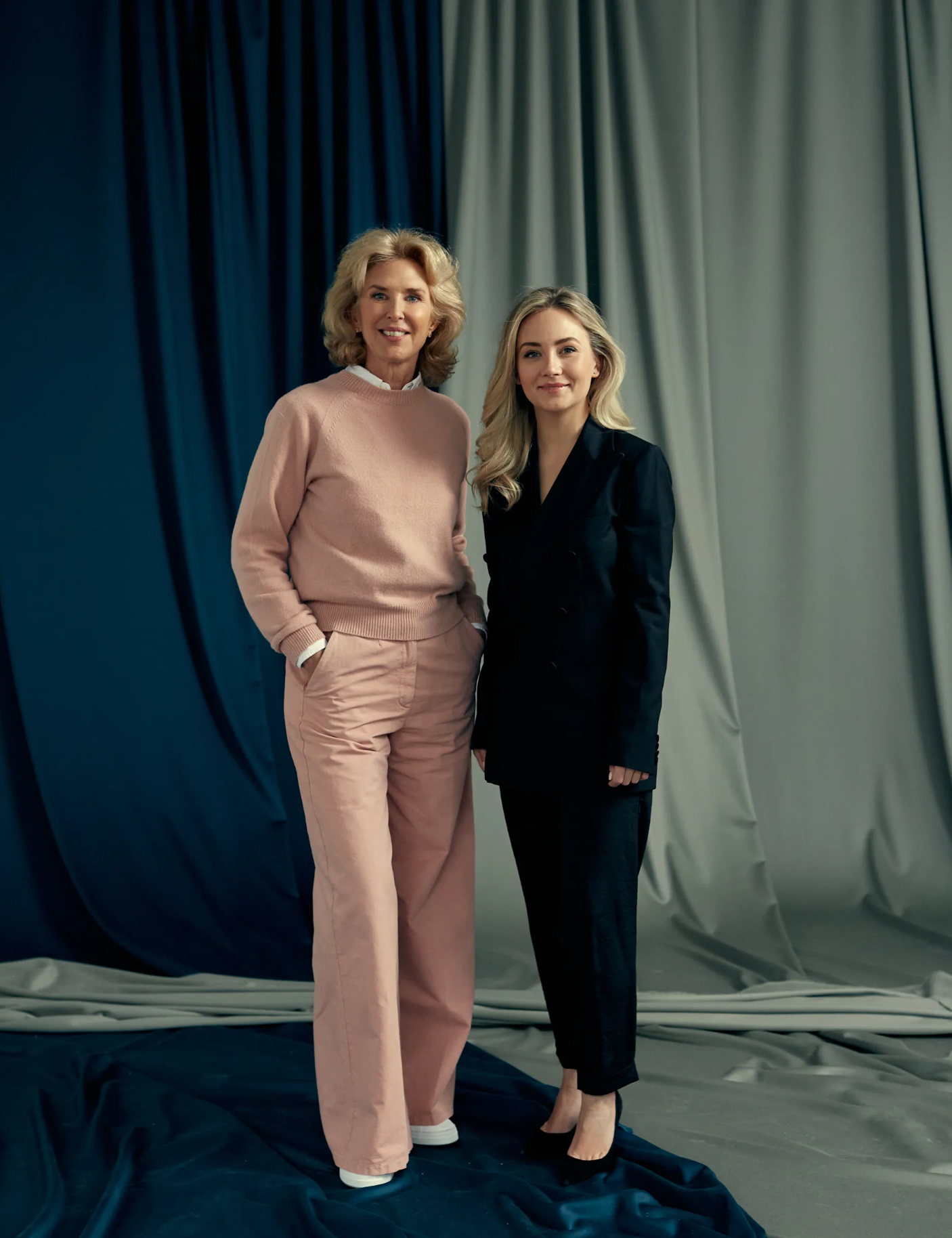 Sophia Spring
Project of the Year, sponsored by V-Zug: South Downs country house by Henri Fitzwilliam-Lay
Henri Fitzwilliam-Lay started her working life as a stylist in Manhattan, where she grew up. Eschewing brown furniture and chintz, she brings a fresh and exciting perspective to country-house decoration. This project (featured in the March 2023 issue of House & Garden) is no exception. Working alongside architectural practice Stedman Blower, she has transformed the interiors of the Georgian-style house built in the 1930s into a glamorous yet comfortable backdrop to family life. And while it may at first glance look as though there has been little concession to the patina that comes with country life, the furnishings and materials are remarkably practical – from the delightful patterned tiles in the laundry and boot room, on which dirt hardly shows, to the tiled walls of the kitchen that resist scuff marks. The dining room – which doubles as an inviting bar between the kitchen and drawing room – has fabric-lined walls to dull sound and provide the cosiest feeling to a space that in so many houses can feel forlorn and redundant. This is decoration at its most expert, executed with flair and conviction.
Henri (left) is pictured with Alicia Hill, Studio & Marketing Manager at V-Zug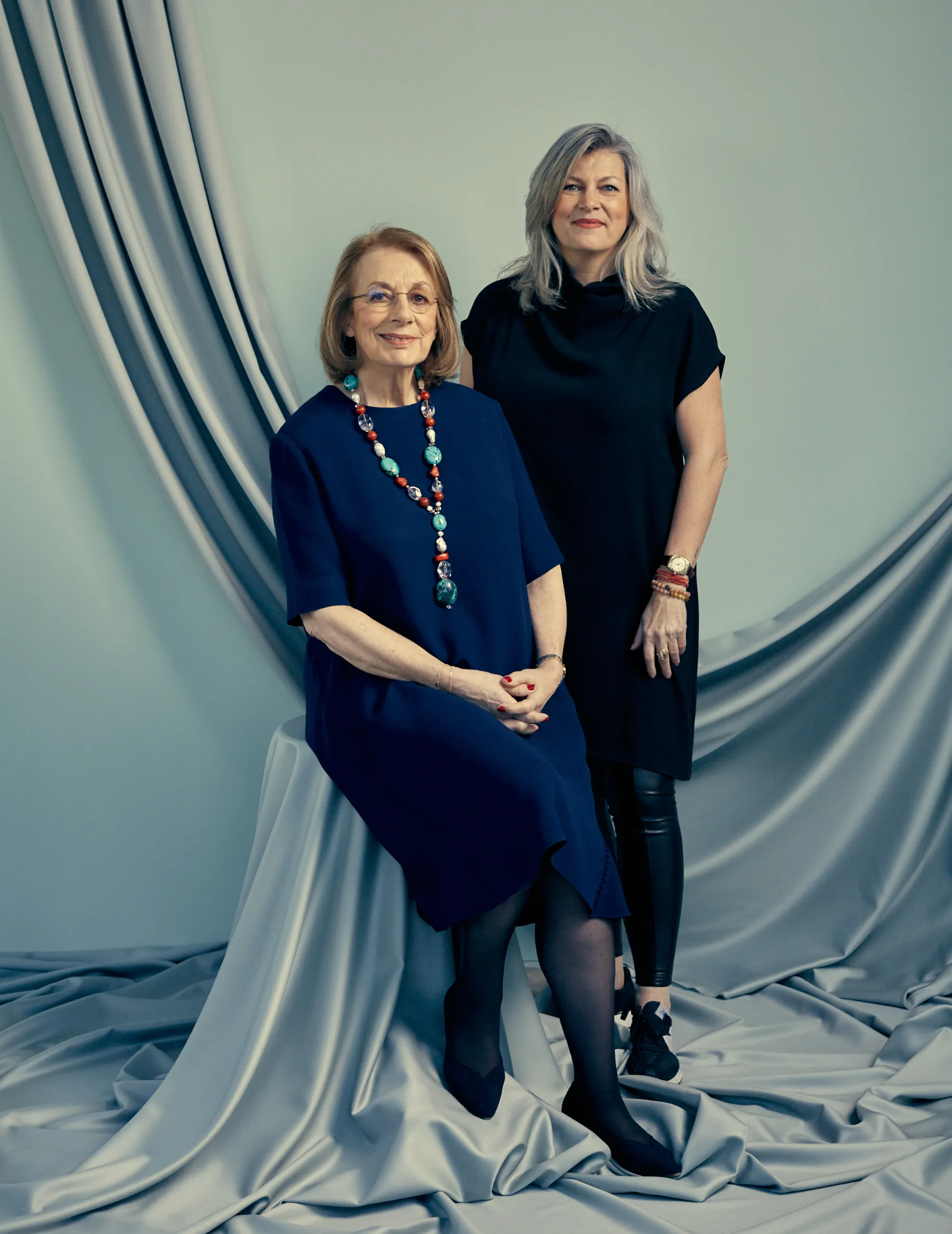 Sophia Spring
Lifetime Achievement Award, sponsored by Lapicida: Nina Campbell
'Interior design is a bossy business,' Nina Campbell once said. 'And if you're that way inclined and someone asks you to help, you say, "Yes!"' Well, since she set up her own business in 1971, there has been no shortage of people who have asked for Nina's help. To look at any Nina Campbell project over the past 50-odd years is to see rooms that are elegant, that effortlessly balance tradition and modernity, and which are always imbued with a sense of wit.
Fellow designer Colin Orchard has said that Nina can 'make a grand house comfortable and a comfortable house grand'. What more would any decorator wish to achieve? Nina's first job in the industry was assisting the great John Fowler, but equally influential in her career has been the renowned New York decorator Elsie de Wolfe, who worked in the first half of the 20th century and about whom Nina wrote the book Elsie de Wolfe: A Decorative Life (Aurum Press, 1993). 'She once advised some young thing not to go into interior design because it was an overcrowded profession,' says Nina. 'That sounds funny now, but I think you could say the same thing today. I wouldn't do anything else though.'
Nina (left) is pictured with Rebecca Cherrington of Lapicida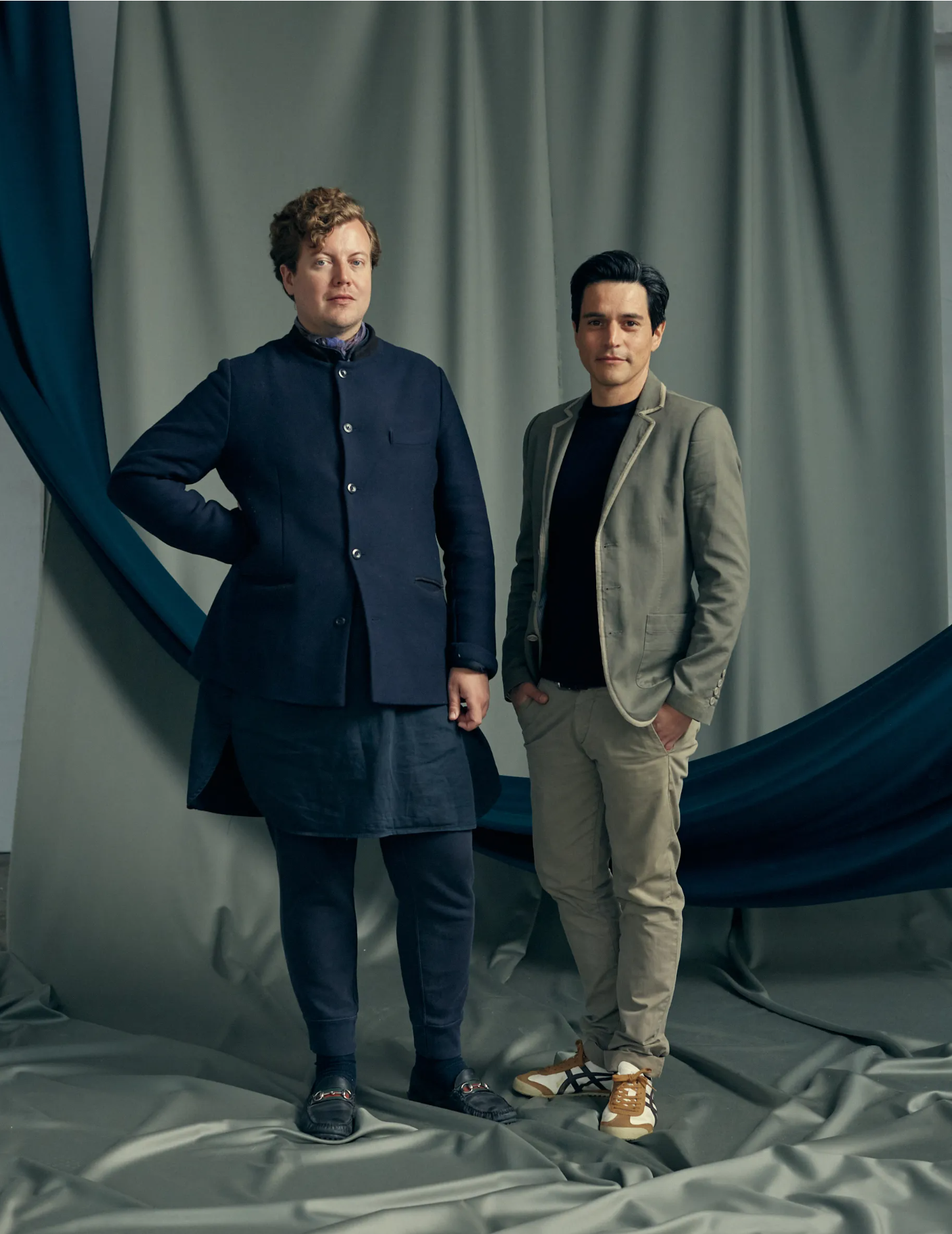 Sophia Spring
Rising Star, Interiors, sponsored by Zoffany: Benedict Foley
At House & Garden, we have had our eye on Benedict Foley for the past few years and have been hugely impressed by the way he is evolving as a creative force in the interiors industry. There are several different strands to Benedict's work. He started out dealing in art and antiques about 15 years ago and, since then, has added a home art curation service to his offering. A few years ago, under the brand name A. Prin-Art, Benedict branched out into product design, developing a range of British-made, contemporary picture frames and wall brackets that have a neoclassical feel.
Some of these are made in a studio on a farm in the Dedham Vale in North Essex where Benedict is partly based (he also has a London home in Hackney). In the December 2022 issue, we published one of Benedict's interior design projects for the first time: the eccentric, flamboyant and completely joyful home of creative consultant Max Hurd. Here – and in the other interiors that Benedict has created – we spotted his skill for combining colour and curation to conjure a mood. The spaces that Benedict decorates are as charming and exciting as the designer himself.
Benedict (left) is pictured with Peter Gomez, Creative Director of Zoffany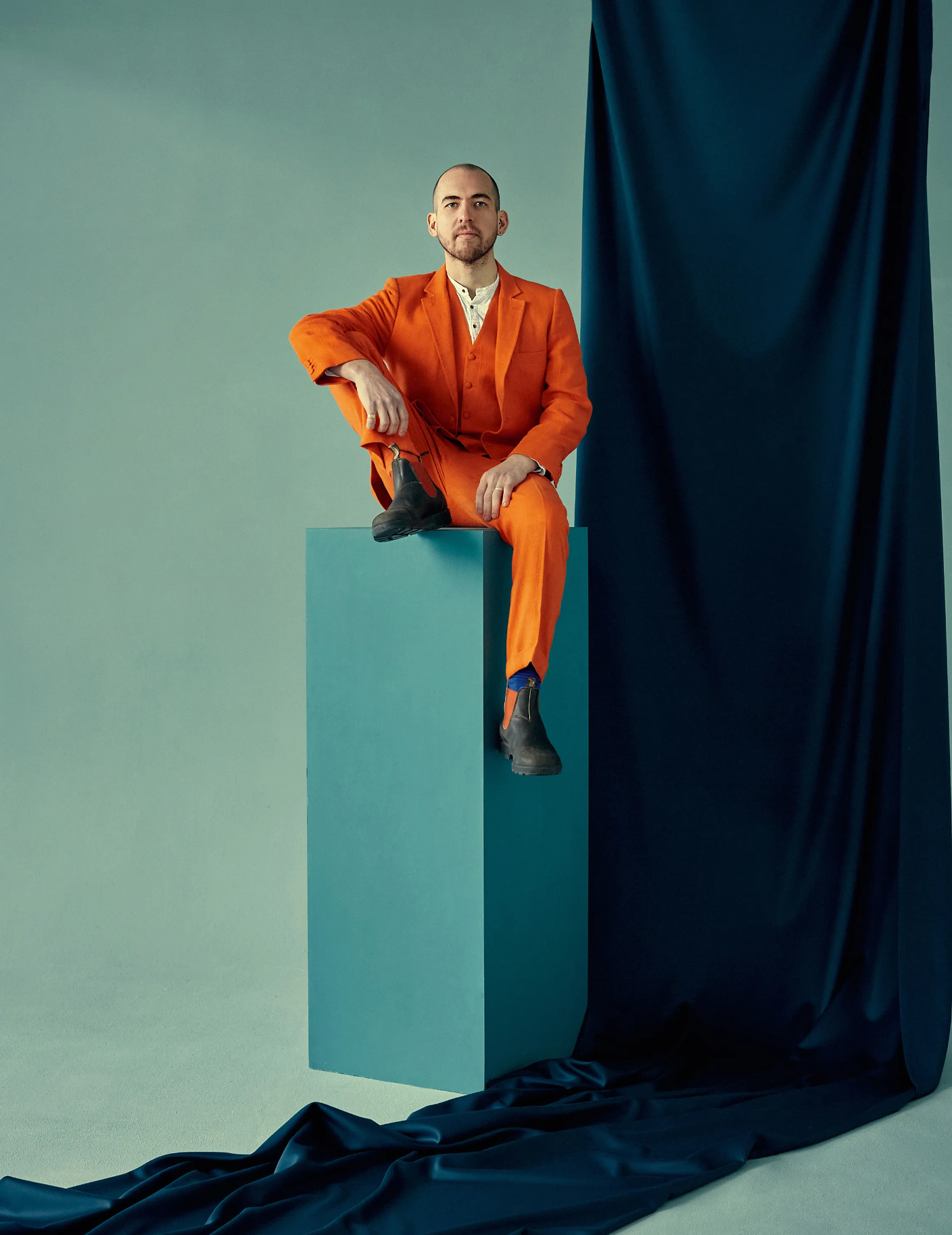 Sophia Spring
Harry Holding grew up in a horticultural family and developed a love of nature at an early age. He worked for a number of nurseries, landscapers and designers before setting up his garden design and maintenance company in 2016. He won what he describes as a 'life-changing' scholarship to the London College of Garden Design, where he was awarded Top Student of the Year in 2018.
At the age of just 30, he has taken his London-based studio from strength to strength, with a series of gardens in the capital under his belt and projects in the Isle of Man and the Brecon Beacons (Bannau Brycheiniog) in the pipeline. His naturalistic planting style is designed with ecological principles in mind. 'I look to landscapes and plant communities as inspiration points, creating schemes that are resilient, long-performing and joyful,' he says. One of his first gardens, which was featured on Channel 4's Grand Designs in 2021, won him a Society of Garden Designers award in 2022. His profile was further raised at this year's RHS Chelsea Flower Show. He described his School Food Matters Garden as 'an immersive, forageable and naturalistic landscape' designed for children to explore nature.
Sophia Spring
Hotel Designer of the Year, sponsored by Vispring: Dorothée Meilichzon
It is no secret that the French are envied for their relaxed yet elegant style and the Parisian designer Dorothée Meilichzon demonstrates why. Having set up her design studio Chzon, in 2009 at the age of 27, Dorothée quickly developed her own particular take on a contemporary look: sultry without a hint of flash; playful without appearing childish; modern without feeling cold; and over the top without being overbearing. Her touch is instantly recognisable in the 60 or so hotels, bars and restaurants she has since been involved with.
A substantial chunk of her work has been in collaboration with Experimental Group – the cool French hospitality company set up in 2007 by three childhood friends. She has worked with them for more than a decade, on haunts in Menorca, Ibiza, New York, Paris, London and Venice. The latest collaboration is the renovation of Cowley Manor in the Cotswolds, which is due to open this summer. Set in a beautiful 55-acre estate, the glorious Italianate building, by 19th-century architect Robert Alexander Briggs, is Grade II-listed and its interior is being reborn in Dorothée's covetable style.
Dorothée is pictured with Martin Gill, Managing Director of Vispring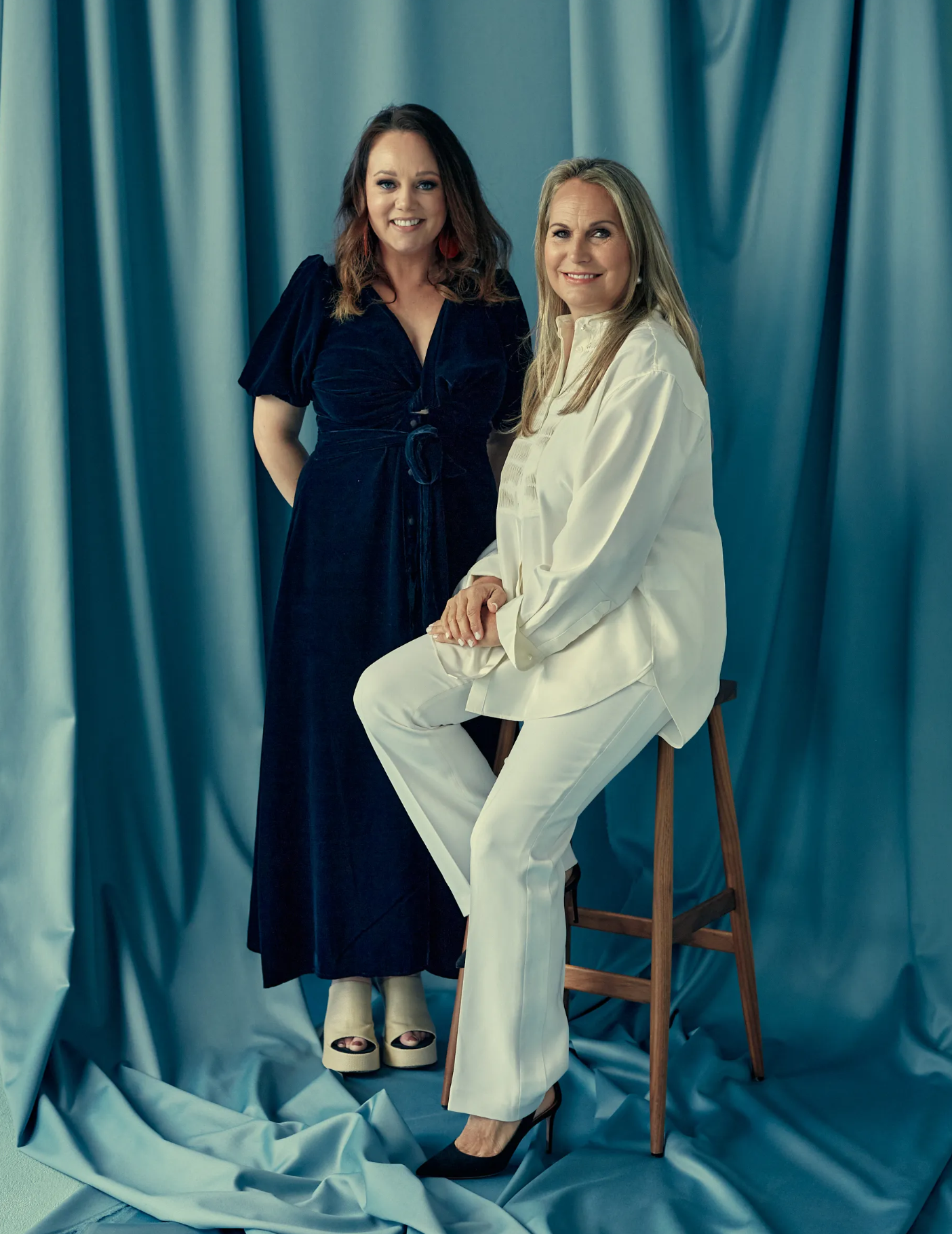 Sophia Spring
Design for Positive Change Award, sponsored by Julian Chichester: Katharine Pooley
As well as running a successful international design studio, Katharine Pooley is involved in several charities for whom she puts her energy and professional expertise to good use. These include Lady Garden, which raises awareness and funding for women's health, and United in Design, which promotes diversity in the design industry. For the past eight years, she has also worked with The Childhood Trust, a London-based charity dedicated to alleviating the role poverty plays in the lives of children. Katharine's studio is the pro bono partner of the Trust's housing support programme Decorate a Child's Life. She and her team partner with suppliers and retailers, and use fabrics and items left over from projects to transform children's bedrooms into comfortable and magical spaces. With childhood poverty rates – which are already higher in London than anywhere else in the UK – increasing due to issues in the housing market and the cost-of-living crisis, this work is more important than ever. This year, Katharine and her team hope to create another dozen or so bedrooms for children living in poverty across the capital.
Katharine (right) is pictured with Jodie Hopkins, CEO of Julian Chichester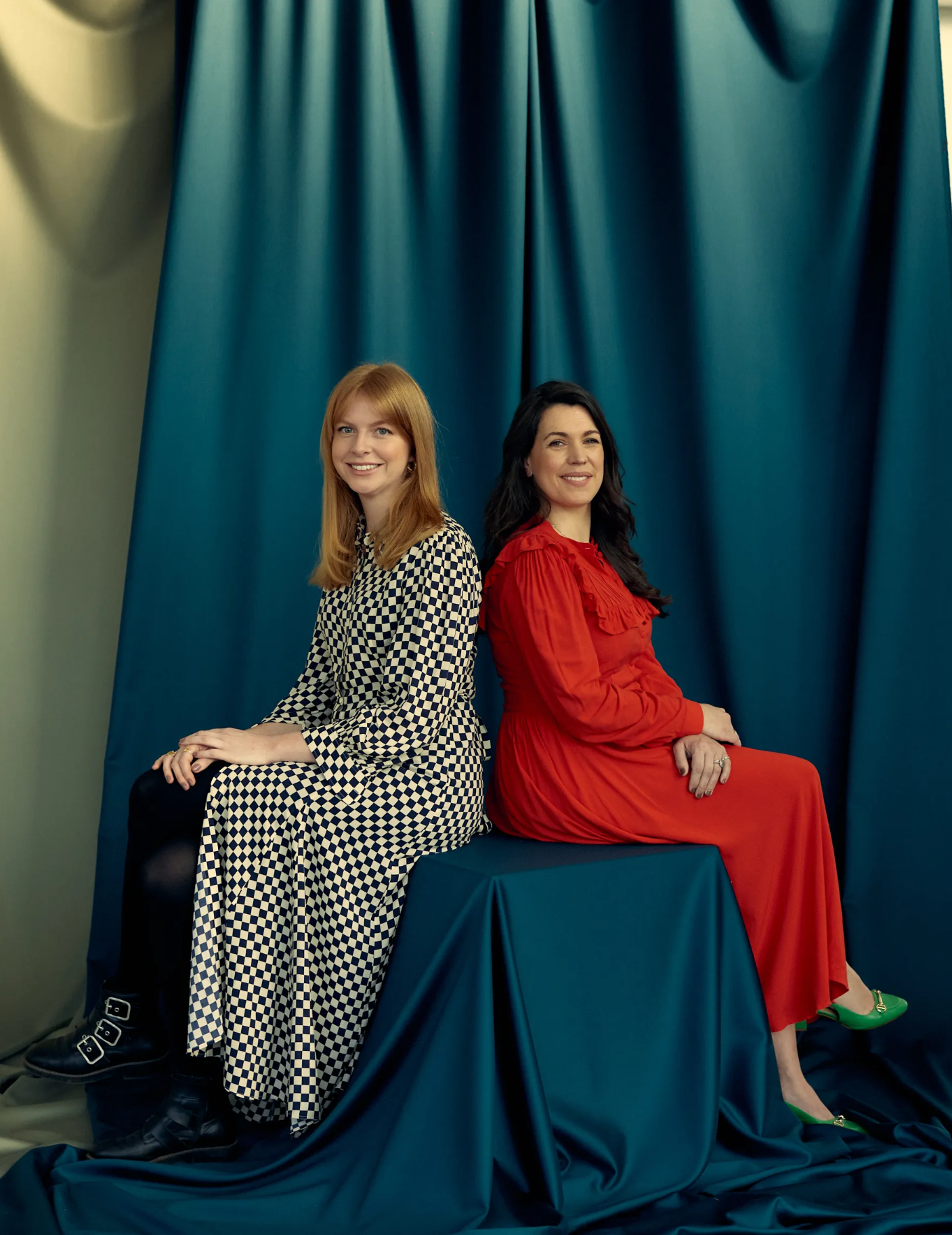 Sophia Spring
Responsible Design Award, sponsored by Vinterior: Haines Collection
'What makes me really proud is when someone tells me that I've made them think about textile waste,' says Jules Haines, who first discovered the extent of this waste while working for a fabric company. 'I thought that there should be a resale platform for the trade that was as easy for companies to use as throwing excess fabric in the bin.'
In 2020, she set up Haines Collection from her home in Kent having come up with the idea in 2018. Since its launch, the company has made waves in the industry, not just as a retail space for trims, wallpaper and fabric available by the metre, but also with collaborations that give excess fabrics a new lease of life. She recently partnered with Daydress on cushions and lampshades made using excess fabric from the fashion company's spring and summer 2022 collections. This year, the Haines offering has been expanded to rugs and tiles – whether that is discontinued patterns or custom designs that have been returned to the manufacturer. Haines Collection serves the supplier and the customer, but, most importantly, the whole interiors industry, so far saving more than 22,000 metres of fabric from being wasted.
Julia Haines (right) is pictured with Lucy Ward, Brand Director at Vinterior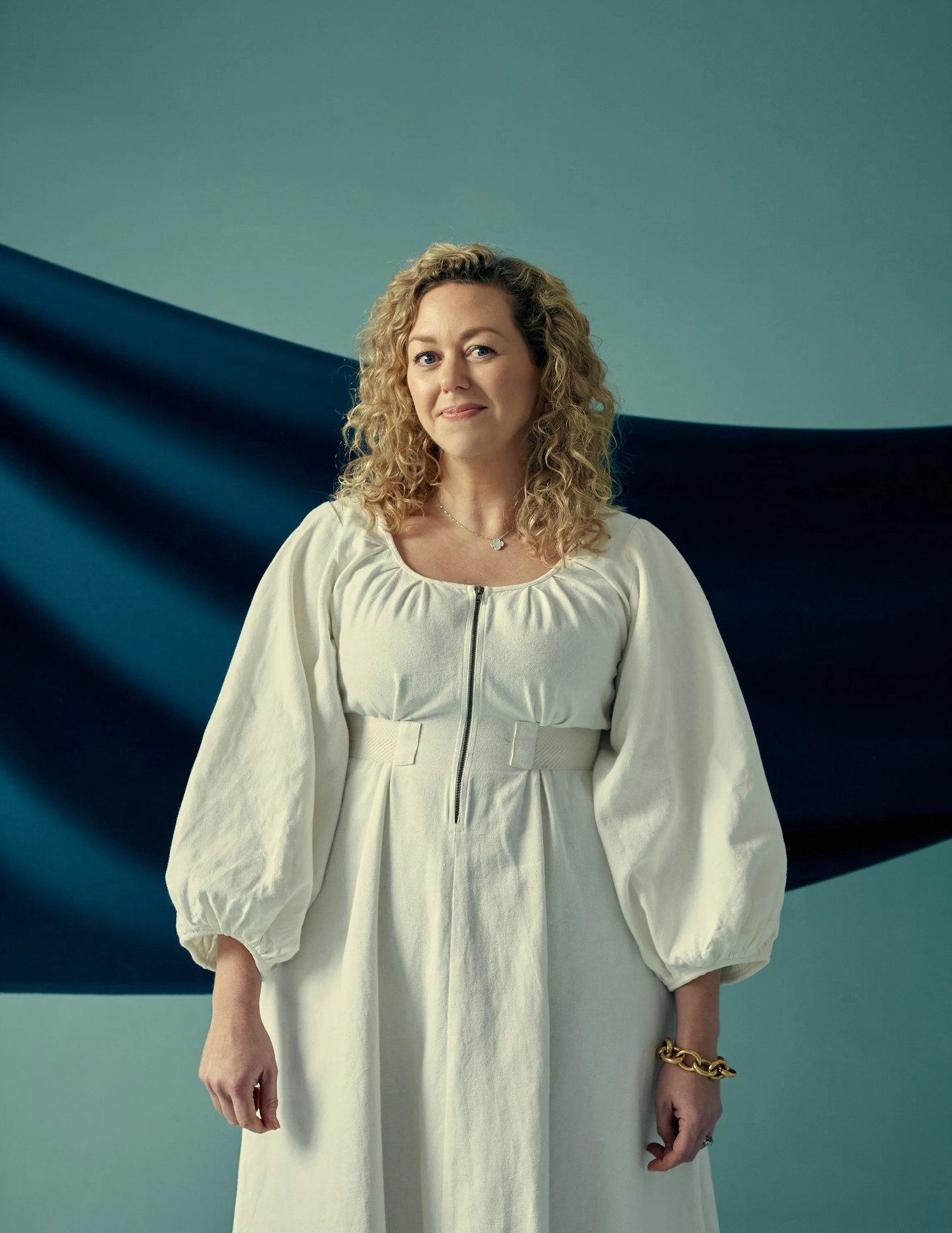 Sophia Spring
The List Award for Design Excellence, sponsored by Phillip Jeffries: Jessica Buckley
The Edinburgh-based interior designer Jessica Buckley has always harboured a passion for decoration. After graduating from the University of Oxford and working for a spell in property investment, Jessica started to look for a new profession that would allow her to establish her own business. Pursuing a career in interior design felt like the perfect fit, as it allowed her to be creative and also gave her the opportunity to take on the challenges of running a business. Not long after studying at the Sydney Design School in Australia, Jessica set up her own UK-based interior design practice in 2011.
Twelve years later, she attracts an international clientele, whom she delights with her inviting and comfortable schemes. Her work is characterised by a fresh and youthful use of colour, and an effortless combination of styles from different eras and cultures. The results are always sophisticated and tailor-made, but without looking too finished, thanks to Jessica's impressive talent for mixing and matching patterns and textures to create rooms that feel as though they have evolved gradually over time.
jessicabuckley.co.uk | thelist.houseandgarden.com