INDIAN FUCHSIA: A RE-INTRODUCTION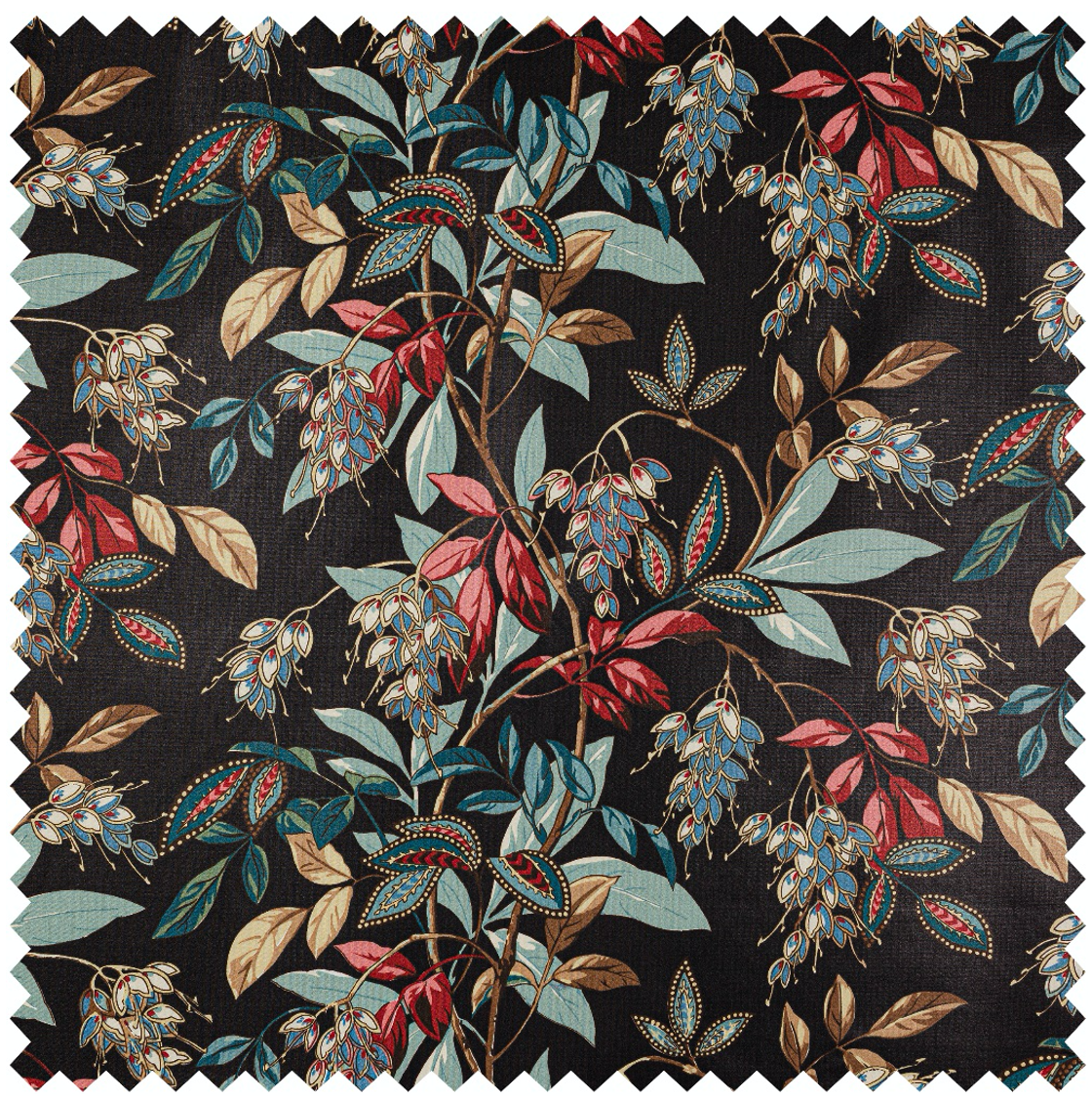 This autumn sees the re-introduction of Indian Fuchsia, a delicate all-over floral, to the Sibyl Colefax & John Fowler fabric library.  Standing apart thanks to its unusual dark ground and punchy palette, the faithful reproduction of Indian Chintz reflects the renewed interest in classic patterns and prints.  First produced in the 1870's, Indian Fuchsia is an intriguing blend of naturalism and stylised flowers derived from Eastern textiles, while the original black colouring has the jewel-like quality of the Kashmiri prints in vogue at the time.
Founded in the 1930's, Sibyl Colefax & John Fowler has been synonymous with the English country house aesthetic for nearly a century.  At a time when homes were furnished with damasks, it was John Fowler and his taste for humble fabrics – plains, stripes, toile de Jouy and glazed cottons, known as chintz – who initiated the association between the English decorating firm and the Indian-derived fabric.  Used to make summer slip covers, chintz's informality of pattern and texture would charmingly cut the grandeur of otherwise imposing rooms; of all the chintzes used by the decorators, Indian Fuchsia was one of the most admired.
In later years, Chairman Tom Parr declared he wanted Colefax to be "synonymous with chintz", initiating the diversification of the decorating business into the retailing of fabrics and wallpapers.  In 1973, he opened The Chintz Shop on Ebury Street, launching Colefax & Fowler's first off-the-shelf fabric collections.
So popular was Indian Fuchsia that decorator Roger Banks-Pye – determined to use his favourite fabric in his own bedroom, but considering it too feminine for curtains – stuck it on the floorboards of his London apartment.  He tested its durability by wrapping a board in it at the top of the stairs at Brook Street, so that everyone would walk on it – remarkably, the fabric survived his cavalier treatment.
Despite Parr's declaration, the decorators of Sibyl Colefax & John Fowler do not restrict themselves to using chintzes in every project.  "East home is entirely personal, united only by timeless elegance, deep comfort and unobtrusive luxury," explain joint Managing Directors Philip Hooper and Emma Burns.  Yet, as Burns continues, "in recent years, we'd find ourselves trawling eBay for remnants, so knew now was the time to revisit.  Although an overall pattern, it is by no means an obvious or blowsy floral, making it very usable for today."
Sibyl Colefax & John Fowler showroom:
89-91 Pimlico Road, London SW1W 8PH
Tel: 020 7493 2231